Become a Young Philanthropist

This new group is an exciting opportunity for younger supporters to engage with The Royal Ballet School and witness the training of some of the most talented ballet dancers.
This new initiative has been created to provide younger supporters with the opportunity to engage with the School and collectively support one of the students' projects. In its first year, the Young Philanthropists sponsored the staging of a contemporary ballet called Pulse which was a highlight of the 2019 Summer Performances.
In 2020 it is suggested that the group supports the Upper School's Choreographic Programme, allowing them to witness the creative process of our emerging choreographers. Young Philanthropists will be invited to visit the School, experience a behind-the-scenes rehearsal and meet some of the students and their choreographic mentors (potentially on a Saturday morning).
A number of the students' pieces will be selected to be performed at the School's Summer Performances at the Linbury Theatre (ROH), Opera Holland Park and possibly the Royal Opera House Main Stage in July.
Young Philanthropists pledge £500 a year or £41.66 per month (£400/£33.33 with Gift Aid) and receive:
Invitations to come and watch the students in class
An opportunity to watch the students' creating their choreographic works and in rehearsal
The opportunity to attend Royal Ballet School events throughout the year
Priority booking for the School's Summer Performances at Opera Holland Park (2-4 July 2020) with a YPs drinks reception
Priority booking for the School's Summer Performances at the Royal Opera House (11 July 2020)
Encore – the School's termly e-newsletter
Acknowledgement in the School's Summer Performance Programmes, Annual Report and on the website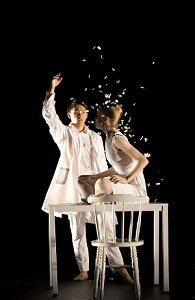 The Young Philanthropists is a rewarding place to start your philanthropy and support some of the world's most talented young dancers. Acknowledging the busy schedule of younger supporters, the School aims to be as flexible as possible with arranging YPs' engagements. We welcome inaugural members to help us shape this exciting new programme by suggesting ideas and providing feedback on their experience.