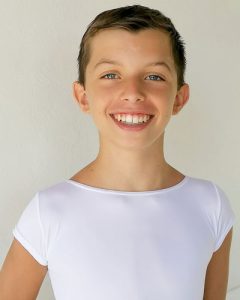 Aron started dancing at the age of 3 at SimonDanceStudio in Italy, directed by his mother, and he has been studying there ever since.
Aron, at the age of nine, was invited by Sthepan Fournial to audition for the dance school at the Teatro di San Carlo in Naples. A year later, he was selected for The Royal Ballet School training in Livorno.
From 2017 to 2019, he has won numerous prizes and scholarships for prestigious dance academies.
In 2017, Aron was awarded 1st place at the Premio Internazionale Danza Rieti, 1st place and the prize for best male awarded by Frederic Olivieri at the Arte e Danza Longiano, 1st place at Eurocity and 1st place at Salieri Danza in Verona for two consecutive years.
In 2017, he won 3rd place at the Youth America Grand Prix semifinals in Paris and was invited to the finals in New York. He was also awarded a special prize at Premio MAB in Milan and 1st place at the Pavlova Competition where he received the prize for best male talent, awarded by Franco De Vita and Raymond Lukens.
Aron has been awarded scholarships for: TAZ of Zürich, PNSD Cannes, The National Ballet Academy of Amsterdam, Ballettakademie Wiener Staatsoper, Staatliche Ballettschule Berlin, Hungarian Dance Academy, Ballet Summer Workshop Estonia, Princess Grace Academy Summer Intensive, American Ballet Theatre Summer Intensive and English National Ballet Summer Course.
Christopher Powney first saw Aron dance at The Royal Ballet School Summer Intensive in 2019.
On being named a Royal Ballet School International Scholar, Aron said:
'I am so honoured to become a Royal Ballet School International Scholar. I still can't believe it and am thrilled just thinking about it!
The programme gives me a lot of opportunities that I never would have thought possible. I am grateful to everyone that has helped and supported me over the years.
I have to keep doing my best and I can't wait visit the School again soon.'
Aron's teacher, Simona Cerbioni said:
'As Aron's teacher and mother, I can only be happy and proud of him. Having the opportunity to study at the School is every dancers dream. I am really thankful to all of the teachers that have contributed to his dance education and to The Royal Ballet School for offering Aron this prestigious award.
Aron has always worked really hard and with passion and dedication, always reaching beautiful results.
There is still a long way to go but this opportunity will help him to work even harder and to make his dreams come true.'