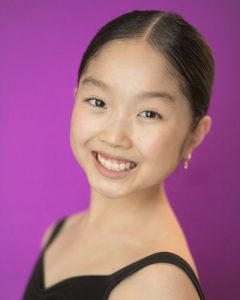 Elise lives in southern California and has been dancing since the age of seven. She began her training in commercial dance, then discovered her love for ballet when she was nine years old. She began her studies at Southland Ballet Academy under the guidance of artistic director Salwa Rizkalla. She has attended the International Summer Intensive at Southland Ballet Academy for the last three years and last year received a The Royal Ballet School scholarship.
Some of the accomplishments Elise has achieved since 2016 include winning first place at the Pre-Competitive Classical division at the Youth America Grand Prix 2016 Los Angeles Semi-Finals, the Hope Award at the 2017 and 2018 YAGP Los Angeles Semi-Finals, and being recognised as one of the top 12 of Pre-Competitive competitors at the New York City YAGP Finals.
Most recently, Elise has had the opportunity to perform her variations at the 10th and 11th Annual Gala of the Stars by Festival Ballet Theatre and has performed various roles in The Nutcracker, Coppelia, Don Quixote, Sleeping Beauty and many more.
Christopher Powney first saw Elise dance at Southland Ballet's Summer Intensive 2018.