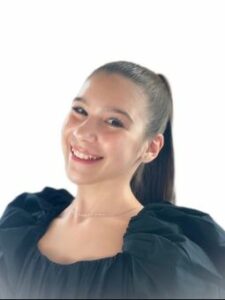 Eva is 13 years old and has been dancing at Belarusian State Choreography Gymnasium-College since she was 10. She began dancing at the age of three with the Vezhnovec Ballet School.
Eva has been on tour to various European cities as a soloist and has featured in concerts and performances at the Bolshoi Theatre of Belarus, where she became a laureate. At AmsterDance 2019 in the Netherlands, Eva competed in the contemporary and classical choreography Pre-competitive class and won the Talent Prize.
In 2020, Eva placed in the top 12 at the YAGP Barcelona 2020 and came second in Classical Choreography Pre-competitive. She placed in the top 12 in the Junior age category at Youth American Grand Prix (YAGP) Paris 2022, and was invited to YAGP International Contemporary Youth Ensemble in Israel and the YAGP Tampa and USA finals.
Aside from dance, Eva has been taking violin lessons for two years and hopes to continue this in future. At school, she has consistently high grades; she loves maths and has several certificates from maths competitions. Eva also studies English and French.
Eva has received short-term scholarships at The Royal Ballet School and Berlin State Ballet School Germany and Ballettschulle Theater Basel.
On being named Royal Ballet School International Scholar, Eva said:
I am filled with pride and gratitude to be a recipient of the International Scholars Programme Scholarship. It is a great honour for me to represent The Royal Ballet School, a school with a century-old history, traditions and legendary graduates. Being a scholarship recipient motivates me to work even harder and become better every day. I am grateful to my parents, teachers, and of course, The Royal Ballet School for this opportunity.