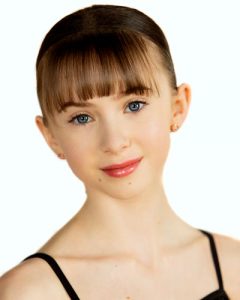 Isabella currently trains in Los Angeles, CA with Alla Khaniashvili as well as in Salt Lake City, UT with Maureen Laird. She has also taken part in Summer Schools at the Southland Ballet Academy, City Ballet School in San Francisco, California and the Bolshoi Ballet Academy in New York City.
In 2016, Isabella placed third in the Youth America Grand Prix NYC finals and second place in the semis. In 2015, she was in the Top 12 of the YAGP NYC finals. Isabella has been invited to dance in several Galas this past year including YAGP's Stars of Today Meet the Stars of Tomorrow, Ballet West's Night of Shining Stars, and Festival Ballet Theater's Gala of the Stars. Finally, she and her partner were awarded Top Six Honors in the Pas de Deux category at the YAGP 2018 New York City Finals.
Isabella has a wealth of professional performance experience, including performing the Variation from Paquita at the 9th Annual Gala of the Stars at Southland Festival Ballet Theater and in the Grand Defile at BAM, Howard Gillman Opera House.
Christopher Powney first saw Isabella dance at Southland Ballet's Summer Intensive 2016.
On being named a Royal Ballet School International Scholar, Isabella said:
'The Royal Ballet School is one of the finest ballet training programs in the world. I am so grateful to have been invited to be part of such an amazing programme. Thank you, Royal Ballet School for this incredible honour - it is a dream come true!'