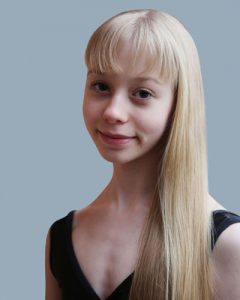 Born in Chicago, Isabella first discovered her love for dance when she was two years old.
She started dancing at the AFB Academy in Evanston, Illinois. Isabella's role models were always her mother and older sister, both former dancers with American Ballet Theatre. She continued studying ballet at the Evanston School of Ballet and Chicago Ballet Arts.
She then began studying ballet more seriously when she was 11, and now trains as a pre-professional at the Joffrey Academy of Dance in Chicago.
This year, Isabella was awarded the Carey Rose Winski second place scholarship of $500 to use for her ballet training. She also participated in the Youth America Grand Prix and won third place for her classical variations and top 12 in contemporary. She was then invited to compete at the Youth America Grand Prix 2019 Finals in New York.
Christopher Powney and Samira Saidi first saw Isabella dance at the 2019 Royal Ballet School Chicago auditions.
On being named a Royal Ballet School International Scholar, Isabella said:
'I am so excited to be attending the Royal Ballet School as an International Scholar. It is one of the most prestigious ballet programs and I am so grateful to be a part of it. Thank you for the opportunity!'