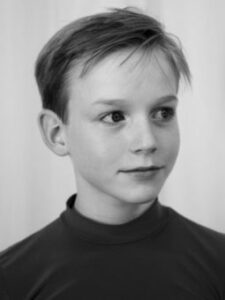 Jetro was born in Belgium and currently trains at ADEcompany Stefano Giuiliani Lanaken. He previously trained at Dansschool Veronique Lenaerts Genk and has completed various short-term programmes with schools such as Elmhurst Ballet School and Nationale Balletacademie. In 2021, Jetro competed in the Youth America Grand Prix (YAGP) Paris and came 2nd in the pre-competitive category for contemporary dance. He continued the following year to compete in different competitions and in 2023, he gained 1st place in contemporary and 2nd in classical at the YAGP 2023, Paris.
On being named Royal Ballet School International Scholar, Jetro said:
I am very excited because being a student at The Royal Ballet School is my big dream. I'm so happy for the opportunity I've been given and also a little curious about what to expect in this programme. I am also very grateful for everyone who helped me in my journey as a dancer: my dance teacher Stefano Giuliani and all the dancers from ADE Company, my parents, and my grandmother, who is my biggest fan.