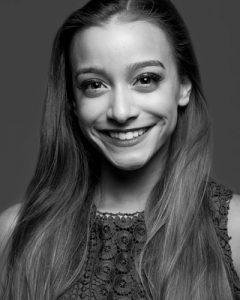 Born and raised in Arizona, Madison began dancing at a very young age and trained in all different disciplines of dance. When she was eight years old, she decided to focus on ballet training and joined Master Ballet Academy, lead by Artistic Director Slawomir Wozniak.
Since then, while still at a young age, Madison continuously keeps growing as a dancer and an artist. Among her many accolades and awards are winning the Gold Medal at the World Ballet Competition in 2015, the Youth America Grand Prix (YAGP) Hope Award in 2016, and most recently won the 2017 Grand Prix award at YAGP finals in New York. Madison has performed with Phoenix Ballet in several productions with seasoned professionals that include soloist roles originated for her by Krista King-Doherty, Albert Blaise Cattafi and Fransisco Gella.In addition, Madison has performed at galas, on TV, and has been featured in Dance Spirit and Pointe magazines.
Christopher Powney first saw Madison dance at the Youth American Grand Prix 2017.
On being named a Royal Ballet School International Scholar, Madison said:
'Attending The Royal Ballet School has always been a dream of mine. I couldn't believe my ears when I was awarded the International Scholar. I can't wait to see where this journey takes me. Thank you so much for making my dreams come true!'
Madison started her full-time training at The Royal Ballet School Upper School in September 2020. She graduated from The Royal Ballet School in July 2022 and now dances with Birmingham Royal Ballet.