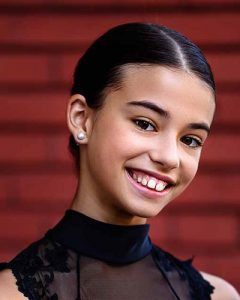 Martha was born and lives in Bucharest, Romania. She started taking dance lessons in 2017 at the age of nine, after training for several years as a competitive swimmer.
While her dance education at Dance Planet, her ballet school, includes also gymnastics, lyrical and contemporary, Martha's love and main focus is classical ballet.
At the age of 11 Martha won in short succession the Grand Prix at the Sibiu Dance Competition, the Hope Award at the Youth America Grand Prix (YAGP) 2019 Paris semifinal and First Prize at the YAGP 2019 New York finals. Martha performed at the YAGP Anniversary Gala at the Lincoln Center in New York.
Christopher Powney first saw Martha dance at The Royal Ballet School Summer Intensive in 2019.
On being named a Royal Ballet School International Scholar, Martha said:
'I am deeply honoured to have been chosen as an International Scholar of one of the best ballet schools in the world. My time at two of The Royal Ballet School Summer Intensives was wonderful and truly inspiring. I can't wait to see where my journey in the incredible world of ballet takes me.'
Oana Ionita, Director of Dance Planet, said:
'The International Scholar award is a recognition of Martha's outstanding talent. At the same time it opens for her a whole new development perspective as a young artist.'