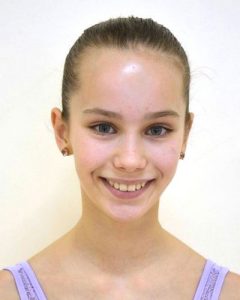 Nora was born in 2003 in Vilnius, Lithuania and started dancing in 2007. She currently trains at the Lithuanian National MK Čiurlionis School of Arts with teacher Deimantė Karpušenkovienė.
She has performed in many ballets from Cinderella to Don Quixote at the Lithuanian National Opera and Ballet Theatre as well as on tour in Russia.
Nora has competed at the International Ballet and Contemporary Dance Competition, Domenico Modugno, in Lecce, Italy and was awarded second prize at the Vilnius Young Ballet Dancers Competition and the Tallinn International Ballet Competition, Estonia.
Christopher Powney first saw Nora dance at The Royal Ballet School Summer Intensive in 2019.