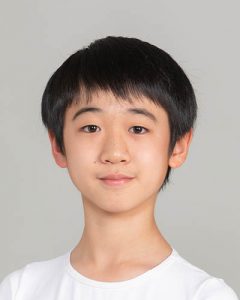 Rei began ballet training at the age of 4 at the Ballet Academy Releve and currently studies at the Ballet Studio Concerto. 
In 2019 he won the Grand Prix Prize at the Japan International Competition, awarded by Mr. Valdimir Malakhov. He showed promising talent when he was chosen to dance in the Gala Concert.  
Christopher Powney selected Rei to take part in The Royal Ballet School's International Scholars Programme when he saw Rei dance in the 2021 Youth America Grand Prix held in Osaka, Japan; Rei won 2nd prize in the Junior Mens Division. 
On being named a Royal Ballet School International Scholar, Rei said:
'I am so grateful and honoured to have the opportunity to train with The Royal Ballet School, which I have always longed for. I look forward to meeting the wonderful teachers, and talented dancers from all over the world. 
 
I like the elegant, dynamic, and expressive dances of the Royal Ballet dancers, their dances always make me so happy. I want to be able to dance like them, and I dream of dancing at the Royal Opera House someday. I do my best with passion for ballet!"