Royal Ballet School International Scholars 2016/17
Meet the first Royal Ballet School International Scholars, for the academic year 2016/17. More to be announced.
Twelve year old Isabella currently trains with Maureen Laird at Salt Lake City Ballet, Salt Lake City, UT and Regina Zarhina at the School of Russian Ballet, in Marbella, Spain. She has also taken part in Summer Schools at the Southland Ballet Academy, City Ballet School in San Francisco, California and the Bolshoi Ballet Academy in New York City.
In 2016, Isabella placed 3rd in the Youth America Grand Prix NYC finals and second place in the semis. In 2015, she was in the Top 12 of the YAGP NYC finals.
Isabella has a wealth of professional performance experience, including performing the Variation from Paquita at the 9th Annual Gala of the Stars at Southland Festival Ballet Theater and in the Grand Defile at BAM, Howard Gillman Opera House.
On being named Royal Ballet School International Scholar, Isabella said:
"The Royal Ballet School is one of the finest ballet training programs in the world. I am so grateful to have been invited to be part of such an amazing programme. Thank you, Royal Ballet School for this incredible honour - it is a dream come true!"
Yo is twelve years old and lives in Tokyo, Japan. She first started modern ballet at the age of 4 but from 8 years old she turned to classical ballet, studying at the Symphony Ballet Studio under the direction of Soi Satomi and Royal Ballet School graduate Asada Yoshikazu. 
In 2015 she was a Finalist at Youth America Grand Prix in New York and was awarded several scholarships to well renowned ballet schools. 
In 2016, Yo won first place in many major competitions including Youth America Grand Prix, which is where our Artistic Director, Mr Powney awarded her the title of Royal Ballet School International Scholar. Yo is also a first place winner in the All Japan Ballet Union, National Kamakura Competition, Machida National Ballet Competition, Japan National Dance Competition, National Saitama Dance Competition and the Japan Grand Prix.
Yo made her first visit to White Lodge in December 2016.
On being named Royal Ballet School International Scholar, Yo said:
"I promise that I will put in the effort every day to become a dancer who can show emotions to the audience. During my stay at White Lodge I was happy to be able to experience ballet training at the best school in the world!"
Lily began dancing at the age of 4 and currently trains at Southland Ballet Academy, where she began pointe training in 2013. Lily is not currently in full-time training, although she has attended Summer Intensives at Canada's National Ballet School in Toronto, The Princess Grace Academy in Monaco and The Royal Ballet School Summer Programme at White Lodge.
Lily competed in the Las Vegas Semi-Final of the 2015 Youth America Grand Prix, achieving 1st place in Contemporary and 2nd place in Classical in the Pre-Competitive age group. In 2016, she received 2nd place in the Junior age cateogory at the Los Angeles Semi-Finals.  At the New York City finals, she was selected to perform in the Final Round in the Junior age category on the final day of competition.
Lily performs frequently with the Southland Festival Ballet Theatre. This year alone she has danced the Butterfly in The Secret Garden and the Lilac Fairy Attendant in The Sleeping Beauty. 
On being named Royal Ballet School International Scholar, Lily said:
"When I was given the title of International Scholar, I honestly couldn't believe it. The Royal Ballet School has always been my dream school, so when Mr Powney told me I would be part of this program I was astounded. Receiving this honour pushes me to work harder and to live up to the title of The Royal Ballet School International Scholar. I am very excited for what this year holds for me."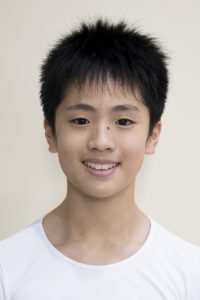 Takumi began dancing at age 3. He start his training at Kondo Ballet, where he continues to study today under the direction of his mother, Kurumi Mukai. Takumi began to demonstrate his natural talent increasingly from age 8 when he danced the main role in Kondo Ballet production of Peter Pan.
Since 2013, Takumi has won 1st Place and Gold medals in most of the well-known competitions held in Japan, including NBA Ballet Competition, All Nippon Ballet Competition in Nagoya, International Ballet Competition in Nagoya and Kawasaki Ballet Concour.
In 2015, he placed 3rd in the Junior Division at the Youth America Grand Prix, Osaka. The following year at the Youth America Grand Prix 2016, Takumi won 1st place in both the Junior Division and Contemporary Division.
On being named Royal Ballet School International Scholar, Takumi said:
"I am so thrilled and honored to be selected an International Scholar! I want to keep working hard every day because I am aware that there are so many talented people in the world. I am also looking forward to making new friends when I visit White Lodge and hope to dance with them at the Royal Opera House.
I just enjoy dancing so much and hope one day to invite everyone to come see me dance who has supported me to make this dream come true."