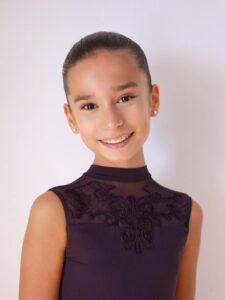 Sacha Meunier is 13 years old and currently dances at the CRR of Perpignan. She is not in full-time ballet training as she still attends middle school but consistently goes to dance class in the evenings.
Sacha came 1st in the pre-competitive category at the Youth American Grand Prix (YAGP) Paris in November 2021 and was placed in the top 12 in the junior category at the YAGP Barcelona in December 2022, where she was offered a short-term audition at The Royal Ballet School. 
In 2022, Sacha was awarded a scholarship at Berlin State Ballet School and a private audition at Opera de Paris Ballet School. During a Summer Intensive in Toulouse in July 2023, she was offered a short-term audition at the Dutch National Ballet Academy.
On being named Royal Ballet School International Scholar, Sacha said:
I feel thankful and lucky to be given the opportunity to join The Royal Ballet School International Scholars Programme as it has always been my dream school. I can't wait to start the programme and to come back to White Lodge.