Darcey Bussell: From Student to Star of The Royal Ballet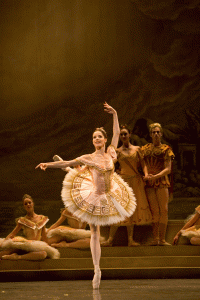 This exhibition at White Lodge Museum, charted Darcey Bussell's life as the nation's favourite ballerina, from her days as a young student of The Royal Ballet School, illustrated by records from The Royal Ballet School Collections, to her triumphant career with The Royal Ballet.
The exhibition, which ran from May until December 2014, featured photographs and exquisite costumes from Darcey's personal collection, including her Princess Rose dress from Kenneth MacMillan's ballet, The Prince of the Pagodas (1989), in which she was made a Principal of The Royal Ballet, aged just 20; as well as the tunic she wore for her last performance with the Company in 2007, performing in MacMillan's masterly interpretation of Mahler's Song of the Earth. Also, the magnificent tutu she wore in the Royal Opera House revival of Frederick Ashton's Sylvia (2004).
Displays included some rare film footage and artefacts, including a plaster-cast of Darcey's foot 'on pointe', made by the craftsmen of Madame Tussaud's when preparing the waxwork of the ballerina, and a preparatory sketch made by Allen Jones for his portrait of Darcey, commissioned by the National Portrait Gallery in 1994.
Watch students interview Darcey about her life and career: