Diploma of Dance Teaching

The Royal Ballet School's Diploma of Dance Teaching trains professional dancers and dance teachers to teach classical ballet to a world-class standard. It is a two-year part-time course.
The course gives a sound foundation in technical and creative approaches to teaching ballet to a broad range of students. It uses The Royal Ballet School's vocational vocabulary and methodology, drawing on the most up-to-date pedagogy.
The course is delivered by expert Royal Ballet School staff and visiting lecturers at the School's state-of-the-art studios in Covent Garden, London and White Lodge, Richmond. Trainee teachers can specialise in either vocational or pre-vocational settings.
The Diploma of Dance Teaching runs every two years. The School will open applications in December 2023 for a new cohort of trainee teachers to start in September 2024.
I have gained so much from this course. I feel much more secure in my teaching practice and confident when working with a variety of ages and learners in a class. – Amber, DDT graduate
The diploma has been a life-changing experience. It has broadened my knowledge in many areas of ballet teaching and given me more confidence as a teacher. – Pippa, DDT graduate
The placements gave me the opportunity to put theory into practice. Being exposed to a vocational ballet school alongside very experienced teachers has been priceless and highly beneficial to my teaching practice. – Paula, DDT graduate
Dates
September 2024 – July 2026
Location
The Royal Ballet School
46 Floral Street
Covent Garden
London
WC2E 9DA
Eligibility
Candidates entering the course will normally have:
a minimum of three years' professional experience as a dancer with The Royal Ballet, Birmingham Royal Ballet and/or other internationally recognised classical ballet company and/or
attainment of a degree in dance, or equivalent standard from a recognised dance training organisation, or a minimum of three years' professional experience as a dancer or teacher
successfully completed an interview for the course with The Royal Ballet School's Head of Training and Access and Teacher Training Manager
demonstrated attributes required for vocational ballet teaching including:
appropriate personal presentation
personal and professional integrity
analytical skills in relation to ballet technique, musicality and artistry
the ability to, or the capacity to learn to, visually recognise areas of improvement for individual dancers
appropriate communication skills for working with young people and colleagues
the desire to work with young people in order to foster their talent for classical ballet
organisational skills
the ability to work as part of a team
passed a Disclosure and Disbarring Service (DBS) check prior to commencing the course.
Applications close 26 February 2024.
Fees
Application fee: £75
Course fees: £8,600 (£4,300 per year over two years)
1. The Royal Ballet School will offer two fully-funded places on the Diploma of Dance Teaching beginning in September 2024.
To be eligible for funding, applicants must:
Have one of the following categories of ethnicity:

Black British
Black African
Black Caribbean
Black other
Mixed – White and Black British
Mixed – White and Black Caribbean
Mixed – White and Black African
Other mixed background (to include Black British, Black African, Black Caribbean or Black other)

Have a confirmed place for entry to The Royal Ballet School's Diploma of Dance Teaching, due to commence in September 2024
Be a UK resident
Course structure
The course takes place over six academic terms, with intake every two years. Classes are held one day per week during term time, usually on Fridays. Classes are typically held at Upper School in Covent Garden, although some aspects of the course are delivered at White Lodge. In both years, one extra day per week is required for independent learning.
During Year 1, participants are also required to attend additional workshops, observations and teaching practice placements on a limited number of weekends and weekdays throughout the year. In Year 2, additional teaching practice placements will take place at The Royal Ballet School and other schools and training institutions on days outside of regular lessons.
The course covers:
Classical ballet technique
The healthy dancer
Education practice
Reflective practice
Psychology and child development
Workplace context
Teacher practice.
Course delivery
Course content is delivered through practical lessons, workshops and lectures. Approximately 60% of the course is practical, and 40% is written work. To complete the written components of the course, participants are expected to have a suitable level of English language comprehension and literacy. If English is not your first language, you will need written and spoken English skills at the British Council IELTS level of Band 6 (General English Test) or above.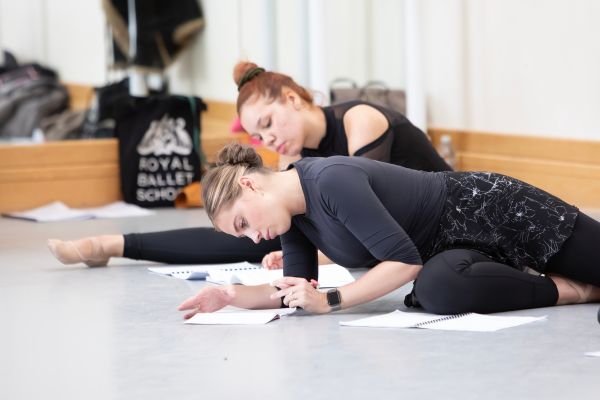 Any questions?
To find out whether the course is right for you, please read our course prospectus.
If you have any other questions, get in touch at [email protected].