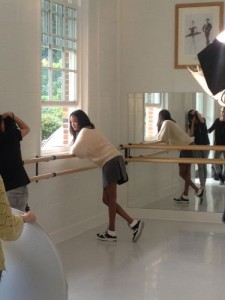 On Friday 16 August, the Lower School at White Lodge, Richmond Park, played host to two formidable members of the glamour world: Mary McCartney, high-end photographer and daughter of Paul and Helen McCartney; and 23 year old British glamour model Jourdan Dunn, famous for modelling for most of the top global fashion houses.
Mary has worked closely with the ballet world since her first public photography exhibition in 2004, entitled Off Pointe: A Photographic Study of The Royal Ballet After Hours. It included offstage pictures of members of The Royal Ballet as part of the Brighton Festival Fringe, and was commissioned to showcase the difference between their gruelling and often painful everyday lives and their storybook performances.
The photo shoot, which took place in the grounds of the main building and within the newly developed Stock/Bussell Studios was be part of The Observer's October Magazine, available on 22 September.