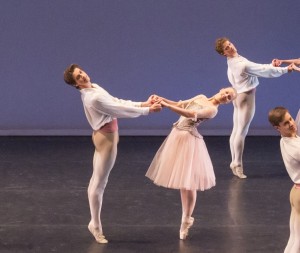 We are pleased to announce two of our 3rd Year students have accepted contracts with The Royal Ballet. Gina Storm-Jensen and Reece Clarke will both be joining the company from Monday 28 October.
Reece Clarke (Scottish) is one of four brothers who have trained at The Royal Ballet School. He joined White Lodge aged 11 and progressed through the School, winning the coveted Young British Dancer of the Year Award in 2012.
Gina Storm-Jensen (Norwegian) was first spotted by the School, at the Prix de Lausanne. She joined our Upper School in 2011 from the Norwegian National Ballet School where she had previously been a student. She was recently awarded the Gailene Stock Prize for Most Promising Student 2013.
Jay Jolley, Acting Director at The Royal Ballet School said:
'We are thrilled Gina and Reece will be joining The Royal Ballet. It is a tribute to their hard work and commitment but above all their talent. Congratulations from us all at the School.'
Kevin O'Hare, Director of The Royal Ballet said:
'I am delighted to welcome Reece and Gina to The Royal Ballet. Over the past year we have taken seven students from The Royal Ballet School into the company and this is testament to the close relationship between the company and School. We look forward to watching them develop in their careers as professional dancers over the forthcoming seasons.'