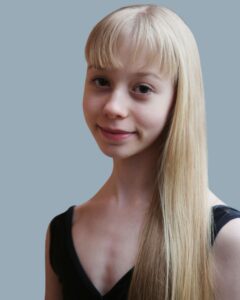 Isabella is from Chicago and began training in ballet at a young age at the AFB Academy in Evanston, Illinois. She continued her training at the Evanston School of Ballet and Chicago Ballet Arts before joining the Joffrey Ballet Academy pre-professional division.
Isabella was invited to the Youth America Grand Prix 2019 New York City finals after receiving third place for her classical variation and top 12 for her contemporary solo. In 2020, Isabella won first place at the Youth America Grand Prix for her classical variation and second place for her contemporary solo before receiving an invitation to the 2020 New York City Finals.
On being named a Royal Ballet School International Scholar:
'I am so excited to be attending the Royal Ballet School as an International Scholar! It is one of the most prestigious ballet programs and I am so grateful to be a part of it. Thank you for the opportunity!'
Isabella started training full-time at The Royal Ballet School Upper School in September 2020.