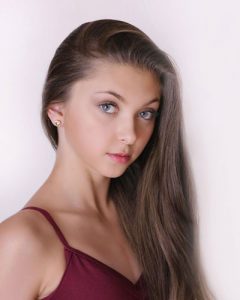 Tia was born and raised in Wisconsin, she began dancing at the age of four and trained in several styles of dance. When she was 10 years old, after performing in her first Nutcracker, she developed her love of ballet.
In 2016 Tia relocated to Arizona to train at Master Ballet Academy, directed by Slawomir Wozniak and Irena Wozniak. Tia continuously works towards perfecting her technique and exploring new ways to challenge herself as an artist.
Some of her accomplishments include winning the Grand Prix Award in 2018 at American Dance Competition/International Ballet Competition, the Youth America Grand Prix (YAGP) Award in 2018 in Phoenix and placing as a finalist in New York as well as in the prestigious USA-IBC in Jackson, Mississippi in 2018.
Tia has performed in principal roles such as Diana and Acteon pas de deux as a gala artist alongside seasoned professionals as well as being featured as a guest artist with Phoenix Ballet in several productions.
In addition, Tia has performed on TV for So You Think You Can Dance, recently starred in a worldwide music video, as well as an episode for Born on Pointe ballet docuseries and independent dramatic film On Pointe.
She was thrilled to connect with Christopher Powney at the Youth American Grand Prix 2017 and shortly after made her first visit to The Royal Ballet School.
On being named Royal Ballet School International Scholar, Tia said:
'It is a huge accomplishment for me to represent The Royal Ballet School as an International Scholar. It offers world-class training and it has always been a dream of mine to be a part of The Royal Ballet family. I am incredibly honoured. I look forward to continuing my passion for ballet and my new journey with The Royal Ballet School. I am truly grateful and humbled to share the title amongst some of the most talented young people I know and highly respect. Thank you for this amazing opportunity.'
Tia started her full-time training at The Royal Ballet School Upper School in September 2019. She graduated from The Royal Ballet School in July 2022 and now dances with Sarasota Ballet Studio Company.