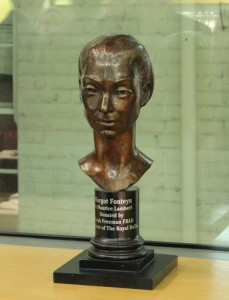 A bust of Margot Fonteyn by Maurice Lambert was unveiled at our Upper School in Covent Garden earlier this month.
The bust was kindly left to the School by the late Frank Freeman FRAD, dancer, teacher, choreographer and examiner, in his will.
Frank trained with The Royal Ballet School, at White Lodge and the Upper School, and graduated to a place with The Royal Ballet.
The sculpture was unveiled in a ceremony at its new home in the foyer of our base on Floral Street by Malcolm Stewart, on behalf of the School's Governors, and by Ballet Teacher Gary Norman.