The Big Give Christmas Challenge 2021

The Royal Ballet School is proud to be raising funds for our Healthy Dancer Programme with this year's Big Give Christmas Challenge.
How to donate
Donations are now open till midday 7 December.
Every donation you make through the Big Give website will be matched, thanks to the generous donations already made by our own supporters and the Big Give Champions. During the week's appeal, your donation is effectively doubled! This means your generous gift has twice the impact. 
About the Healthy Dancer Programme
Today's classical and contemporary ballet companies require outstanding physical versatility, athleticism and artistry from their dancers, in an increasingly competitive industry. Mental resilience and fitness are vital to dancers with demanding performance schedules. Full-time vocational training for up to eight years at the School is intense. Students must learn how to take care of their body and mind: to understand, minimise and manage possible injuries, disappointments and performance anxiety.
The healthcare team works alongside our artistic, academic and pastoral teams. The School's System of Training is informed by their ongoing research and medical insight. Staff understand and quantify the demands of classical ballet training in every year group and offer tailored provision. Every student has straightforward access to rehabilitation ballet instructors, physiotherapists, performance nutritionists, sports physicians, strength and conditioning coaches, school nurses, counsellors and Pilates instructors.
The School is committed to not only developing our students as exceptional dancers and athletes but as healthy, resilient, happy young people. The Healthy Dancer Programme ensures that our students have the support and confidence they need to navigate their own pathways, wherever life takes them. They learn how to overcome challenges and achieve success, both within and beyond the world of ballet performance.
Brian Maloney, Ballet Rehabilitation Specialist at The Royal Ballet
Last week we completed our company dancer profiling. It was such a pleasure to have ALL the Royal Ballet School graduates not only uninjured, but so well informed about their own bodies and healthcare needs. These dancers had essential knowledge about their bodies and were empowered to act on it.
Wayne Kitchener, Physiotherapist at The Royal Ballet School
Getting back to fitness post pandemic has been a significant challenge for the students, and it has been difficult managing the excitement of returning to dance versus a steady and gradual increase in load and dance complexity. Ongoing education, conditioning sessions with the Healthcare Team have all supported the students with this challenge.
Giacomo Ciriaci, Ballet Rehabilitation Teacher
A 3rd Year student returned in September after having had an operation to remove some extra floating bones from the back of his right foot. The goal was to get him back to full fitness for his final ballet assessment in mid-November. He was extremely focused throughout his rehabilitation and every week we were able to progress to a more advanced step without any setbacks. He attended and passed his assessment.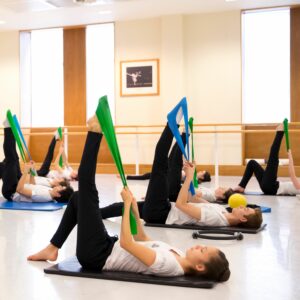 All donations made through the Big Give Christmas appeal will support the Healthy Dancer Programme as a whole. It aims to:
Empower every student with skills and knowledge to look after their health and wellbeing as artistic athletes.
Support mental health and well-being, with an emphasis on performance psychology.
Provide holistic healthcare alongside the artistic teaching staff that informs the School's unique System of Training to create healthy, strong and resilient young dancers.
Support Smartabase, a research database and phone app used daily by students to record and monitor key health indicators, such as sleep, stress and hydration.
Share insights and expertise to the wider dance community through working with institutions such as Queen Mary University of London, St Mary's University, Twickenham and the English Institute of Sport.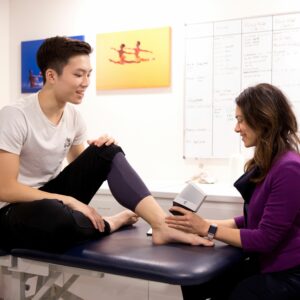 How your donations will help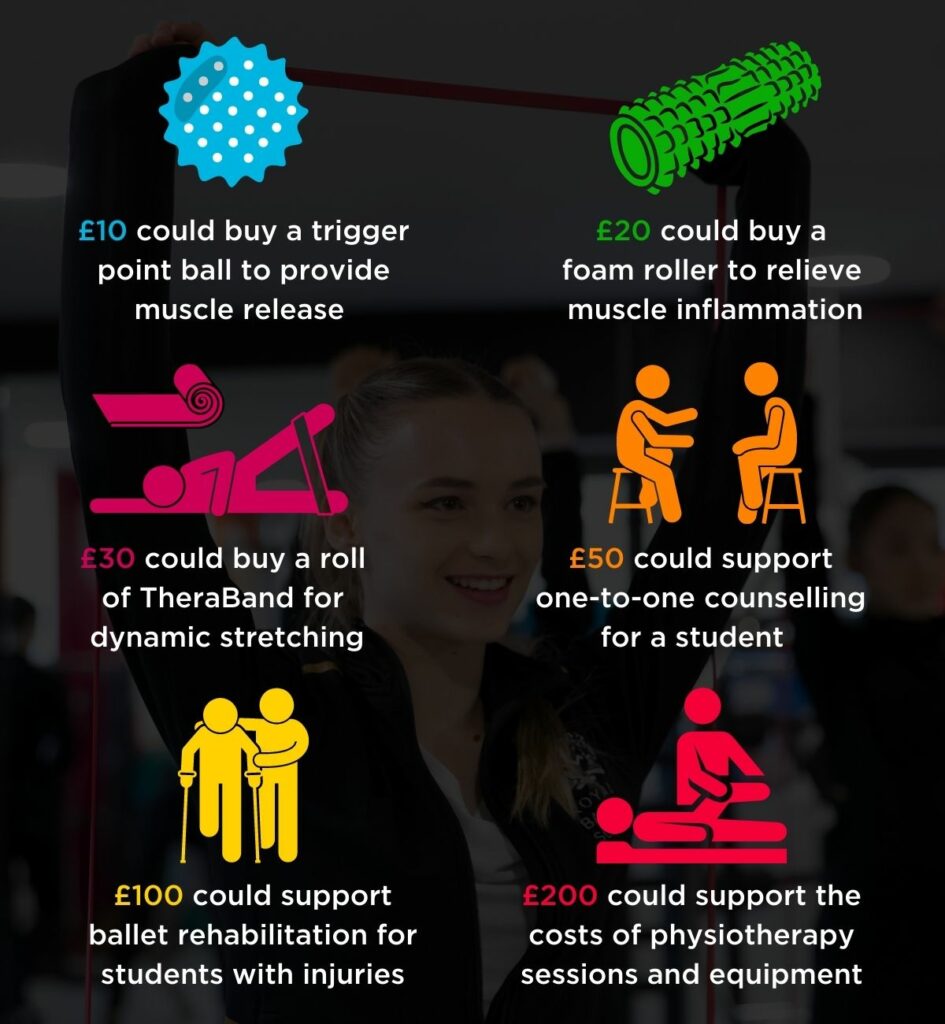 How to donate
You can donate via the Big Give website from midday on Tuesday 30 November to midday on Tuesday 7 December.
If you would prefer not to donate online but to send us a cheque, please make this payable to The Royal Ballet School and send c/o Judith Howard to Upper School: 46 Floral Street, Covent Garden, London WC2E 9DA. Please ensure it is clearly identified as a donation for the Healthy Dancer Programme as part of the Big Give Christmas Appeal 2021.
Please note that only gifts made online through the Big Give website can be matched.