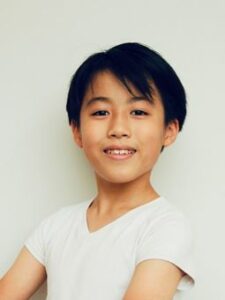 Eita started ballet at the age of three at Wakui Ballet school. His achievements in ballet include 1st place in the Biwako Ballet Competition (2018 and 2021), 1st place in the Osaka Prix Competition (2021), Classical and Contemporary 1st place in the Japan ballet competition Hyogo (2022), 2nd place in the Youth America Grand Prix (YAGP) Japan semi final (Pre-competitive age, 2020) and Contemporary 2nd place in the YAGP Japan semi final (Junior Age, 2021). He was also in the top 6 in the 2021 YAGP international virtual final and in the classical top 12 in the 2022 YAGP semi finals and was a final finalist in the 2022 YAGP Tampa.
Eita has been awarded short term scholarships at the John Cranko School of Stuttgart (2020/22), The Australian Ballet School (2020/21), the European School of Ballet (2021), the Royal Ballet School of Antwerp (2021), the Princess Grace Academy Monaco (2022) and The Royal Ballet School (2022).
On being named a Royal Ballet School International Scholar, Eita said:
'I feel very happy and honoured to have been selected for the international scholarship. I am so grateful for the teacher's tremendous help in Japan and I would like to give my appreciation to my family members who have been giving me an outstanding support. This selection made me realize to continue working hard and try to improve myself to achieve my goals. I would like to thank The Royal Ballet School for giving me this amazing opportunity and I am looking forward to attending classes at my dream school'.