Lynn Seymour (1939-2023)
The School is profoundly saddened to learn that Lynn Seymour has died on the eve of her 84th birthday. We extend our condolences to those who knew her.
Christopher Powney, Artistic Director & CEO, said:
I am so sad to hear this news. The loss of this legendary figure is acutely felt by so many of us who were lucky enough to work with her, learn from her or see her perform. She was very, very special.

She was known for her astonishing dramatic gifts and her unmatched ability to convey a role and invite an audience in to feel a performance at the deepest level. Her astounding artistry sets a shining example for young dancers at the School, and I know countless generations will continue to look to her as a true inspiration. We are privileged to honour her annually with our Lynn Seymour Award for Expressive Dance.
The Lynn Seymour Award for Expressive Dance was established in 2000 by the late Nina Finburgh, the celebrated drama teacher, who established this award in honour of her friend and colleague. The award recognised and celebrated Seymour's extraordinary facility to bring powerful expression to her performances. For the award, students are invited to perform a solo of their choice, prepared on their own and without any coaching, and with particular consideration to channelling expression, emotion and meaning through their performances. Originally held at White Lodge before moving to Upper School in 2002, in its early years Seymour herself coached students through their performances alongside Finburgh.
The following biographical notes have been prepared by Anna Meadmore, Manager of Special Collections, with reference to Edward Thorpe's article in the St James Press International Dictionary of Ballet (editor Martha Bremser, 1993).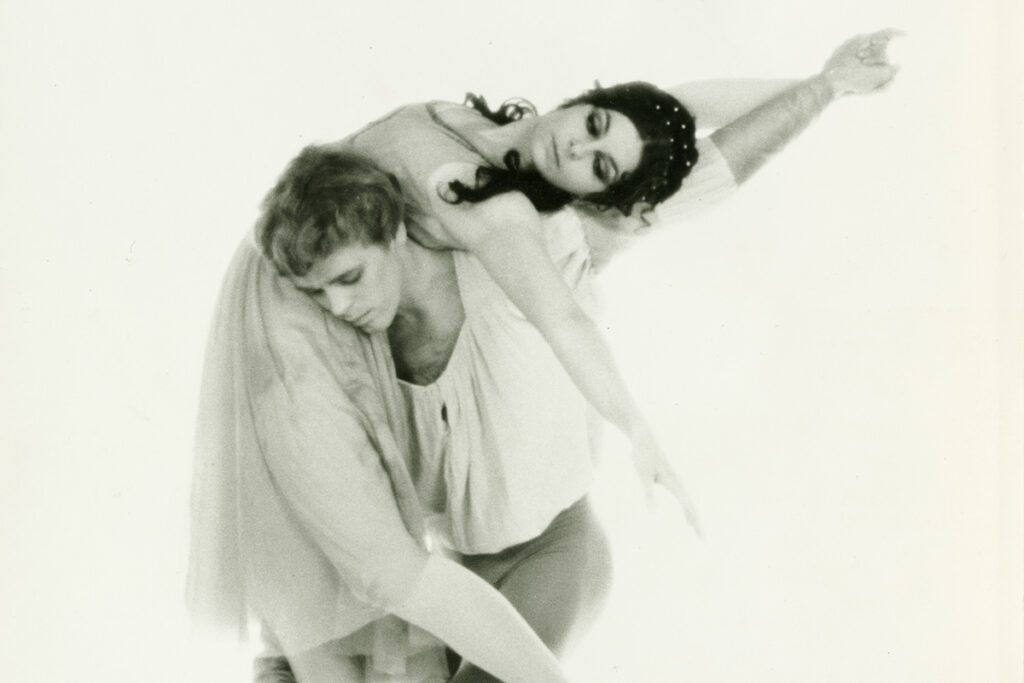 Lynn Seymour and Christopher Gable in Romeo and Juliet (1965). Photographer: Roy Round
Lynn Seymour was one of our most celebrated dramatic ballerinas.
Born in Alberta, Canada, in 1939, Seymour studied under Nicholas Svetlanov before being awarded a scholarship at the age of 15 to attend Sadler's Wells (later The Royal) Ballet School in London. She joined the Covent Garden Opera Ballet in 1956, before dancing with The Royal Ballet Touring Company where she was made a Soloist after creating a leading role in Kenneth MacMillan's ground-breaking work, The Burrow (1958). Seymour then joined The Royal Ballet, becoming a Principal the following year in 1959. She continued to dance with both Companies, performing a range of repertoire including ballets by Frederick Ashton and the great Petipa classics.
Lynn Seymour's daring and dramatic talent continued to inspire MacMillan's innovative choreography: she created the role of the sexually traumatized girl in his searing ballet, The Invitation (1960), in which she was partnered by Christopher Gable for the first time. Both were not only beautiful classical dancers, but also extraordinary actors, and MacMillan next cast them as the leads in his Romeo and Juliet (1965).
Much bitterness was caused when Fonteyn and Nureyev were awarded the ballet's official premiere to attract publicity; when MacMillan duly left to become Director of the Berlin Ballet in 1966, Seymour went with him. Following his return to London as Director of The Royal Ballet (1970-77), she re-joined the Company. During this golden period of her career, she created two of her greatest roles: Natalia Petrovna in Ashton's A Month in the Country (1976) and Mary Vetsera in MacMillan's Mayerling (1978).
Throughout her varied career, Seymour remained an adventurous and independently-minded artist. Acclaimed as one of The Royal Ballet's most popular performers, she also appeared as a guest star with a number of companies worldwide, including The Alvin Ailey American Dance Theater, American Ballet Theater, Chicago Ballet, National Ballet of Canada, Stuttgart Ballet, Vienna State Opera Ballet, Hamburg Ballet, Northern Ballet and Ballet de Marseille.
Closer to home, she danced with London Contemporary Dance Theatre, Nureyev and Friends at the London Coliseum, Northern Ballet Theatre and Matthew Bourne's Adventures in Motion Pictures. Seymour directed the Bavarian State Ballet in Munich for two years (1978-80) and made several forays into choreography, but it is as a unique dancer of 'unrivalled range and power' that she will always be remembered.
Photo at top: Lynn Seymour as Juliet in Kenneth MacMillan's Romeo and Juliet (1965) Photographer not known. Source: The Royal Ballet School Special Collections