An environmental legacy — celebrating a new woodland for The Queen's Green Canopy initiative
As part of The Queen's Green Canopy initiative, The Royal Parks charity created a new woodland, beginning with the planting of 70 trees in Richmond Park, to celebrate the 70 years of The Queen's reign and mark Her Majesty's Platinum Jubilee.
The Plant a Tree for the Jubilee initiative, which ends on March 31 this year, has helped to plant over a million trees across the country in the Queen's name. 
As neighbours in the park, we were delighted to be invited to the opening of the new woodland and celebrate the seedlings of this lasting environmental legacy. 
About the event
Clare Balding hosted the event at Pembroke Lodge with around 50 volunteers of the park, management, and senior park personnel in attendance. She spoke about how important the act of tree planting is, and that trees are a legacy for the future. 
We all know naturalist Sir David Attenborough as someone who is keen to get his hands in the earth, and at this time, he was already in the Queen's Green Canopy planting a tree with local school children. 
When our Head of Site Operations, Roger Atkinson, and the other guests arrived at The Queen's Canopy, Sir David was about to plant the last tree of the canopy. He spoke warmly about his favourite tree in the park, an oak tree adjacent to Holly Lodge. It is 700 years old and he gave a touching talk about what the tree would've seen in its lifetime. 
He offered a reflection that the children could come to see how the trees they planted today will grow for the rest of their lifetimes and that even when they're gone, the trees will be there to watch over the park. 
Sir David also spoke warmly about the Queen's Green Canopy Initiative, and that Her Majesty was extremely supportive of tree planting. 
The morning was a lovely reminder of our small place in a wondrous world.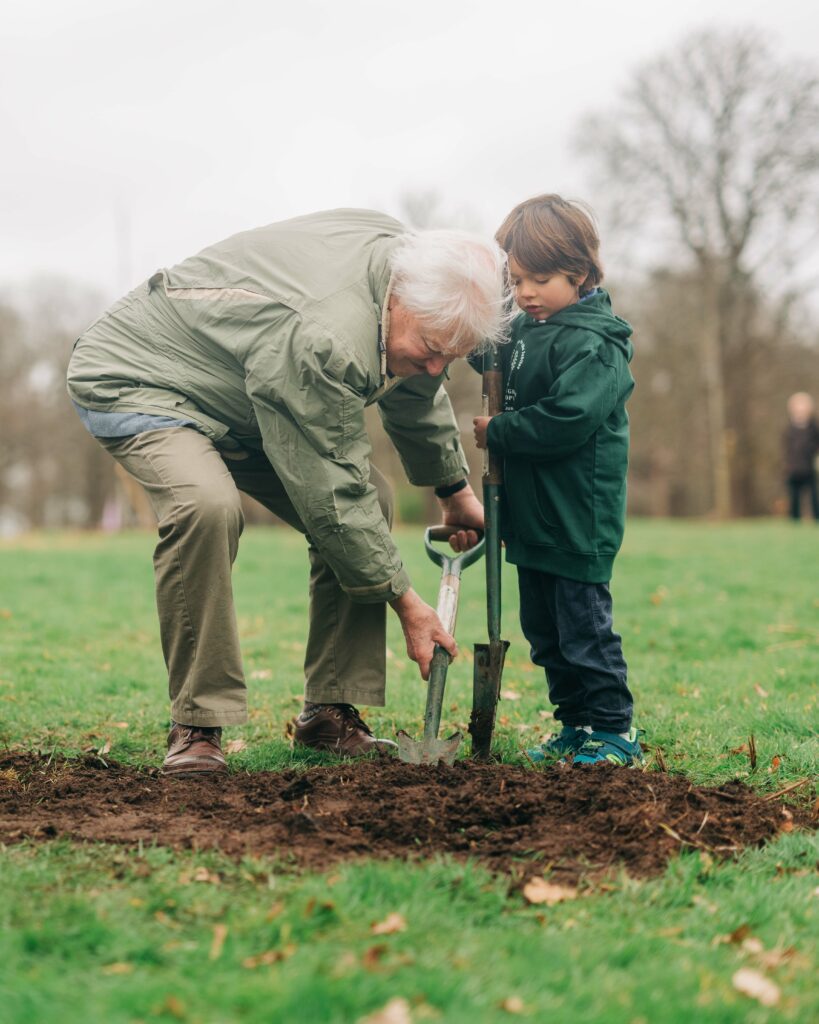 About the initiative 
An area slightly larger than two standard football pitches (around 16,100m2 or four acres) in the western part of the park, close to Ham Cross plantation and adjacent to the Tamsin Trail, will be transformed into a tranquil woodland for visitors to enjoy.
Initially, it will be planted with species including oak, Dutch Elm-resistant elm, small-leaved lime and sweet chestnut. The 70 trees will be planted around a focal point which is likely to incorporate a seating area, for rest and reflection.
In this central area, the larger canopy trees will be complemented by smaller trees such as hawthorn, blackthorn, hazel, elder and dogwood.
£100K is being invested into the woodland creation funded jointly by The Royal Parks and with generous support from The Friends of Richmond Park, and People's Postcode Lottery through 'Help Nature Thrive'.