Graduation 2023
Following the final Summer Performance held at the Royal Opera House on 16 July our Pre-professional Year students were recognised for their remarkable accomplishments at a graduation ceremony in the Linden Studio Theatre at Upper School. The ceremony was attended by students' families, friends, supporters, and special guests and was a truly joyous celebration of their achievements throughout their time at the School.
A special ceremony
Following a welcome from Artistic Director & CEO, the ceremony began with the presentation of students, with our Chairman Christopher Rodrigues CBE delivering a speech welcoming guests and congratulating the graduates. Mr Rodrigues commended the graduating cohort for their contributions to the School and reminded them to always remember the generosity of spirit, passion, and humility they have displayed as students.
Artistic Director & CEO Christopher Powney presented the graduates and spoke of his admiration for the graduating cohort:
I could not be prouder of this group of students. They have demonstrated dedication and commitment to their artistic and academic studies, tenacity and resilience in the face of challenge, and the drive to grow and learn as artists and as human beings. Let's not forget that they also had to endure training at home during the Covid-19 lockdowns. They have always supported each other and shown themselves as considerate, compassionate and respectful individuals. They are truly inspirational.
Mr Powney provided students with inspiration and valuable advice to carry with them throughout their professional careers and life pursuits. He encouraged them to always adopt and cultivate a growth mindset, be smart, remain curious and be okay with failing.
The guest speaker of the occasion was Lauren Cuthbertson, Principal of The Royal Ballet. Lauren is an alumna of the School, studying as a Junior Associate, at White Lodge and Upper School before joining the Company in 2002. In a heartwarming speech, Lauren congratulated our students and presented them with advice to take with them on their professional journeys.
As they strive to reach new and wonderful heights, Lauren urged them to grab hold of every opportunity and always to support others to glitter and shine. During her speech to the graduates, Lauren reflected on the learnings from her illustrious career. Lauren urged the graduates to guide themselves and trust their inner compass. She encouraged them to work harder and wiser, to be authentic, open, relatable, and courageous, and to always absorb the beauty around them.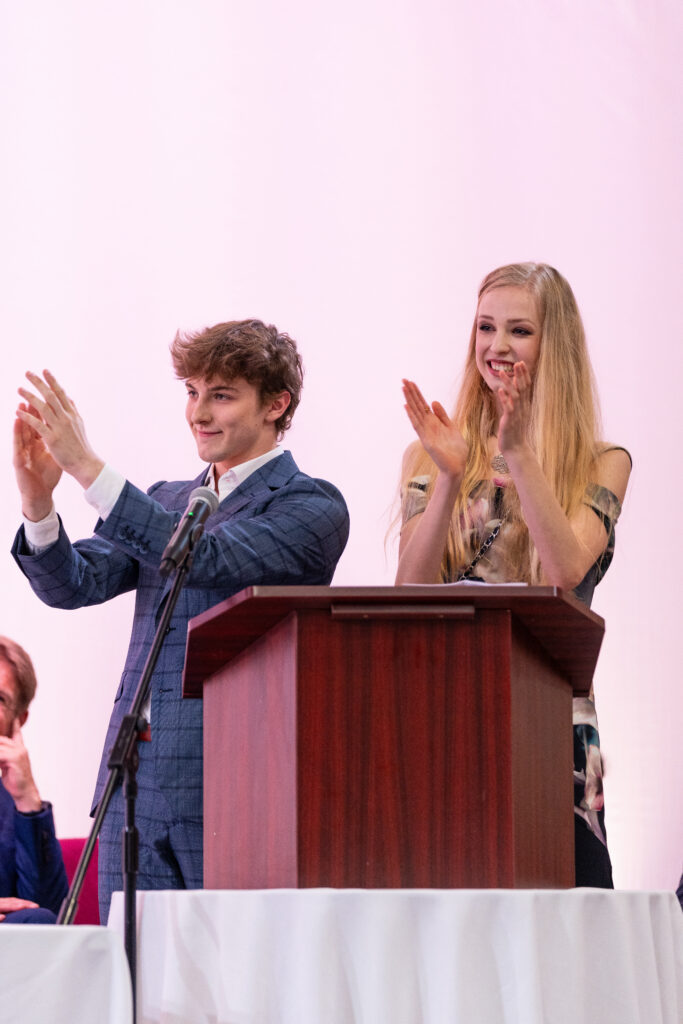 Award recipients
Academic and Pastoral Principal David Gajadharsingh presented several academic prizes to high-achieving students who have excelled in their academic endeavours. Artistic prizes were also presented by Jessica Clarke, Artistic Manager of the Vocational and Pre-professional Programmes, and their prizegivers in a special ceremony:
The Captain and Mrs John Moore Prizes are given for excellence in the preparation, presentation and delivery of the final dissertation in the degree course, Classical Ballet and Dance Performance. The awards were kindly presented by Alison Cattermole in memoriam of her parents Captain and Mrs John Moore.
Awarded to: Caspar Lench, Milda Lukute and Sasha Manuel
The Ashton Award is given to a graduating student who has shown style, personality and technique in Ashton ballets. This award is generously supported by Robert Kimber in memoriam and was presented by Christopher Nourse, Executive Director of the Frederick Ashton Foundation.
Awarded to: Liya Fan
The David Norman Award is given to a graduating student who has shown leadership qualities and demonstrated good citizenship during their time at the School. This award was kindly supported and presented by Geoffrey R W Smith.
Awarded to: Alfie Shacklock
The Worshipful Company of Gold and Silver Wyre Drawers Awards are given to the female and male graduating students who have made the most progress in classical ballet training during their time at the School. The awards are kindly sponsored by The Worshipful Company of Gold and Silver Wyre Drawers and were presented by Catherine Carr.
Awarded to: Tom Hazelby and Sasha Manuel
The London Ballet Circle Dame Ninette Awards are given to the most outstanding female and male graduates of The Royal Ballet School. These awards are kindly supported by The London Ballet Circle and were presented by their Chairperson, Susan Dalgetty Ezra.
Awarded to: Caspar Lench and Milda Luckute
Awarding of Diplomas
Special guests Lauren Cuthbertson and Kevin O'Hare, Director of The Royal Ballet, awarded the students with their Diplomas to rapturous applause.
Students, Milda and Tom, delivered speeches reflecting on experiences and expressed gratitude towards their families, friends, and staff members for their unwavering support. Students reflected on many wholesome memories from their time at White Lodge and Upper School, where they have grown from curious students to compassionate, independent and successful young professionals.
The ceremony was a heartfelt and moving occasion for this cohort, who have dedicated a significant portion of their lives to living, studying, dancing, and performing together. We are proud of the individuals our students have become and feel honoured to have seen the unbreakable bonds they have formed during their time at the School.
Browse images from the graduation ceremony below.
Read more about our graduates' contracts.