Reflecting on our 2023 Summer Intensive with our guest teachers
Last month, we welcomed 628 students to White Lodge and Upper School for The Royal Ballet School's Summer Intensive. Over five weeks, students had the opportunity to participate in an intensive period of world-class ballet training with the School's Artistic staff and renowned guest teachers.
Each year, a diverse array of teachers and choreographers share their insights with our students, guiding them to master new skills while offering tailored feedback in a supportive and inspiring environment.
A teacher's perspective
As we wrapped up our 2023 Summer Intensive, we sat down with Stina Quagebeur, Associate Choreographer with English National Ballet, Tara-Brigitte Bhavnani, former dancer of 20 years with The Royal Ballet, current Guest Character Artist with The Royal Ballet, International Guest Teacher and Private Ballet Coach, and Layla Harrison, alumna, former English National Ballet and Scottish Ballet dancer and dance teacher, to hear about their summer with The Royal Ballet School.
Stina, Tara-Brigitte and Layla shared with us their experience teaching at our Summer Intensive:
Tara-Brigitte: It's always a huge honour to teach at The Royal Ballet School and especially at White Lodge to be within these walls where so many of the greats have danced, and also so many of my colleagues I danced with at The Royal Ballet where they grew up; it's very inspiring and very exciting.

Layla: It has been wonderful to teach again for the Summer Intensive. It is always a privilege to represent the School and implement its System of Training. It feels particularly rewarding to bring The Royal Ballet School experience to so many international students and those who have not yet had the opportunity to learn with the School.

Stina: It's been great; they [the students] are so keen and lovely. They're just absorbing it all. It's a pleasure working with them.
Highlights from the Intensive
Across the five weeks, our Summer Intensive schedule was full of classes and talks ranging from repertoire and solos classes to Q&As with Principal dancers. Although it is hard to choose one highlight, Layla and Tara reflected on their personal teaching highlights from the Summer Intensive:
Layla: The faculty at both the Upper School and White Lodge this year were lovely, and I was lucky that the teams were mostly made up of friends and former colleagues of mine, so that was a highlight!

The response from each group of students I worked with was also very rewarding. They seemed to appreciate learning with me, and I felt many of them went on a real journey during the course. You hope to encourage and enlighten the students in their understanding of what they're aiming for, enable autonomy in their learning journey, and inspire the mindset required to do so. In a short time, you expect less of the dancers' growth to be tangible in areas such as strength or stamina, yet I was thrilled to witness a mix of all types of improvement during the courses this year.

Tara-Brigitte: I think teaching repertoire class. For a lot of students I've taught, it's their first time trying out a dance that we have performed on the Royal Opera House stage. We often think of our technique and artistry, but it's also important to work as a team; that is crucial in some of the corps de ballet numbers we looked at and also so important for putting on a ballet and telling a story.

It's been wonderful to witness the students trying it out for the first time and testing out these vital skills for professional life as a dancer. It is also very interesting to see how aware they soon became of how their movements affect others.
As the current Associate Choreographer with English National Ballet, Stina taught creative classes at Upper School, allowing our students to work on their choreographic skills. We asked Stina about the piece she was working on:
I'm workshopping to a new score for a piece I'm creating for Joffrey Ballet next year.  I thought it was a great opportunity for me to play around with the music and the phrases; also, it's going to be a real piece on a company at one point, so I think it was nice for them to feel a couple of those movements might make it into the piece.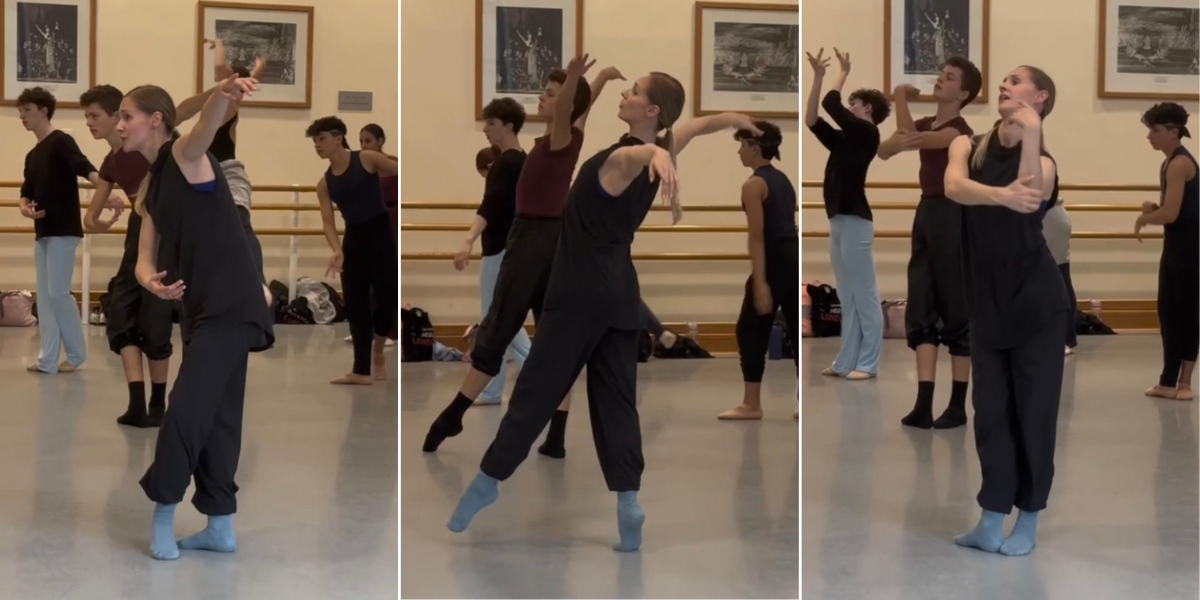 Welcoming alumni
One of the joys of welcoming guest teachers to our Intensives is also welcoming cherished alumni back to the School. Among other guest teachers this year, both Stina and Layla attended the School before pursuing glittering professional careers.
As a past student at White Lodge, we asked Stina what it was like being back at the School:
I wasn't at Upper School here in this building, but still, I think that first day when they [the students] were so eager and focused, it made me remember back when I was at White Lodge. It's also nice to see the next generation coming up, although it does feel strange coming back as a choreographer; suddenly, we're on the other side so many years later.
Layla also attended White Lodge and Upper School, but her journey with the School began when she was just ten years old. After her performance career, she returned to the School to complete her Vocational Dance Teacher Training qualification and now teaches at White Lodge and for our Intensive Courses and Associate programme. She admits the Summer Intensive undoubtedly shaped her career as a dancer and teacher and reflects on coming full circle:
I attended the Summer Intensive when I was ten years old. I was the youngest to attend, and I don't think I'd ever stayed away from home for so long. I loved the experience and can recall joyful little memories like putting my new friends' hair in a bun each morning and playing in the beautiful gardens in the evenings. The classes were wonderful, and the School contacted my parents after the course about me joining the School. I made friends for life during the week, including a couple of friends who became my classmates later when I joined the School to train full time and who I am still close with now.
Embracing the School's System of Training
One of the aims of our Summer Intensive is to introduce young dancers to The Royal Ballet School's unique System of Training in an environment where students from all across the world can come together and share their passions. Tara-Brigitte commended the students for the enthusiasm and passion they brought to each class:
The students in my class are all so keen and passionate about ballet. It's wonderful that we can all be together to pursue this and study this. Despite being from around the world, they embraced our System of Training here, the syllabus, and the English style. It's been wonderful that they've been so open-minded to try it out.
Layla also commended the students for their approach to their training throughout the Intensive. We asked her why she thinks Intensive Courses are important and what the benefits are:
Enjoying a mix of training can be very inspirational for dancers. New teachers, pianists, peers, and studios can all prove beneficial to a dancer of any age or level. Young dancers need to be like sponges in this scenario and absorb as much of anything they find useful and positive and take it with them their training journey.
Thank you to all of our Artistic teaching staff and guest teachers for a fantastic Summer Intensive, it has been a joy to have you share your knowledge with our students.