Ana Lorenza Blanco Peniche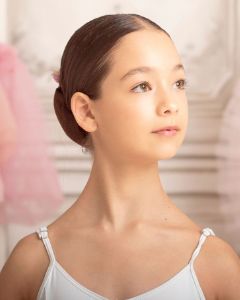 Ana Lorenza started her ballet training at the age of four. Now 12, she trains at Chassé Ballet in Mexico.
Her achievements in ballet include 2nd place at The World Ballet Competition, and 1st place Classical and 2nd place Contemporary at The Ultimate Ballet Competition, both based in Florida, USA. Ana Lorenza was also an UBC Aspire Award recipient. In 2022, Ana Lorenza placed in the top 12 at the Youth America Grand Prix finals.
Ana Lorenza lives life by the phrase, 'You will never know your limits unless you push yourself to them!'
On being named a Royal Ballet School International Scholar, Ana Lorenza said:
'For me it is a great achievement to have been selected to be an International Scholar. The Royal Ballet is an incredible academy and at such a high level. It has always been my dream school, so I feel very grateful to have this great opportunity.'