Upper School students perform early 'lost' work by Ninette de Valois
Five 3rd Year students have performed an early experimental work by our founder Dame Ninette de Valois for the first time since it was last seen in 1932.
The Arts of the Theatre (1925) celebrates the stage arts, with five female roles portraying Music, Painting (representing stage design), Dancing, Comedy and Tragedy. Dancers in the original production included de Valois herself, playing Painting, and her assistant, dancer Ursula Moreton, as Tragedy.
This short piece was uncovered by our Manager of Special Collections Anna Meadmore, who came across rehearsal notes taken by Moreton. Meadmore then worked collaboratively with our students to breathe life back into de Valois' early ballet as part of the students' degree dissertations.
Set to La Valse by Maurice Ravel, the reconstructed performance featured costumes by the Upper School's Wardrobe Supervisor, Suzie Holland, who designed them with Meadmore. No visual records of the original costumes exist, but inspiration was taken from the work of Kathleen Dillon, the piece's original designer.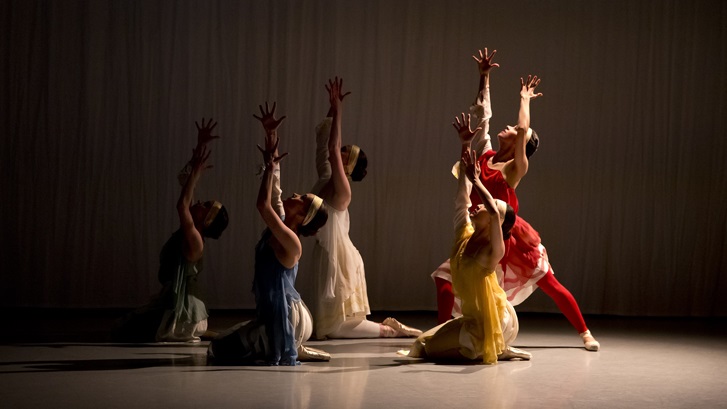 The livestreamed event included two performances of The Arts of the Theatre, and a talk from Meadmore about the history of the piece, its influences, and its significance to de Valois's later career. Viewers also had the chance to understand more about the balletic language of the piece during a demonstration and Q&A segment with the students.
The event was warmly received by the dance community, with Jann Parry reporting for Dancetabs that The Arts of the Theatre made for 'refreshing viewing' and provided an insight into de Valois's 'youthful manifesto about dance's importance as a theatrical art'. Maggie Watson wrote for Oxford Dance Writers that the students had clearly benefitted from exploring the different movement styles in the piece, highlighting 'the value of collaborative dance research between archivists and practitioners'.
Following this positive reaction, Meadmore hopes that the reconstruction can continue to be a useful and inspiring resource to dancers, dance teachers and researchers in future.