The Royal Ballet School's online shop extends its range
While The Royal Ballet School is best known for training the ballet stars of the future, it also has an impressive retail range. The range includes clothing, equipment for dancers and beautifully-crafted commemorative items for fans and supporters of the School. We have developed the products based on feedback from students and staff at the School, and external feedback received in response to surveys. There are also some unique Christmas items, just in time for last minute Christmas shopping. You can buy from the range online and in a pop-up shop at the School in Covent Garden.
High-quality products from ethical suppliers
The School seeks to include the highest quality products and is committed to using suppliers that have sound ethical and sustainability credentials. The stylish and comfortable hoodies, available in both child and adult size, and logo face masks are supplied by A.M. Clothing. They were the first print company in the UK to introduce Neutral® Fairtrade clothing. The popular tote bags are supplied by BIDBI (Bag It Don't Bin It), a SEDEX (Supplier Ethical Data Exchange) and Sustainable Life accredited company. Made of heavyweight, Fairtrade and GOTS organic cotton, the bags feature the School's coat of arms and motto, 'Strength & Grace.' The healthcare products are used at The Royal Ballet School by the students, guaranteeing their high quality and durability.
New Christmas items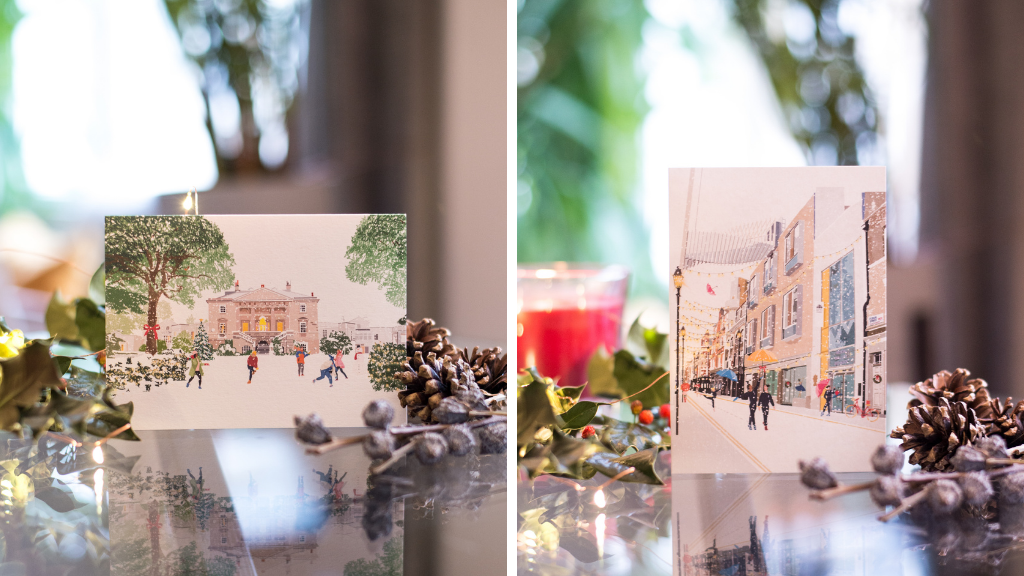 Alongside the already covetable range of commemorative pieces, some new Christmas items give a touching insight into the life of the School and its celebrated students. Two beautiful Christmas card designs are by London artist Njeri Illustrated: one shows Royal Ballet School students walking to class under the twinkling Christmas lights of Covent Garden, and the other shows younger students having a playful snowball fight in the grounds of White Lodge. The Christmas baubles feature a gold silhouette of two of our alumni, Hanna Park (now dancing with the Royal Ballet) and Davi Ramos (now dancing with Dutch National Ballet), dancing a pas de deux from Paquita.
Supporting diversity in dance
The range also includes the children's book, 'Ballet with Heart,' written by Emily Joof. Borne out of her frustration at the lack of diversity in children's literature, Emily started her company Mbife to highlight books which celebrate diversity and to author children's books which amplify different voices and perspectives. Inspired by her own two children's adventures at ballet class, 'Ballet with Heart' is a sweet, uplifting story celebrating that ballet and classical dance are for everyone, regardless of ability, gender or race.