Primary Steps on Demand teachers tell us about the programme
Our new Primary Steps on Demand programme is now available to purchase, extending the work the School does in UK primary schools with its existing Primary Steps programme. The flexible on-demand programme makes high-quality dance education from The Royal Ballet School available to primary school children, wherever they are in the world. All materials, including video classes, lesson plans, pupil resources and ongoing advice and support are provided, so educators don't need to have previous dance teaching experience to deliver the programme.
We spoke to three Royal Ballet School teachers who have been involved in creating the programme: Amy Giancarlo, Natalie Krapf and Lewis Sharp.
How did you become involved in Primary Steps? What's your background and what do you love about this particular role?
Natalie: I initially became involved with Primary Steps about 10 years ago when I began teaching the in-school workshops in London, and later taught the afterschool classes in Dagenham. I'm also a Junior Associate teacher so teaching on the two strands was very complimentary. As a Primary Steps teacher, it was exciting to see children engage with ballet for the first time. I particularly loved seeing the children try new steps, movements and concepts, then gradually see them grow in confidence and skill. It is incredibly rewarding.
Amy: I first learned of the Primary Steps programme during my studies on the Diploma of Dance Teaching course at the School, in which I observed various demonstrations, workshops and lessons in both Dagenham and Swindon centres. Having taught ballet in the recreational and educational sectors for ten years, I was particularly inspired by the Primary Steps mission. The programme is unlike any other – it is inclusive, has a wide national reach, and there is just as much emphasis placed on creativity as there is on technique. There is no place for didactic teaching methods in the Primary Steps programme, which is incredibly refreshing to witness.
Lewis: I trained in Contemporary Dance at Trinity Laban Conservatoire of Music and Dance and am just about to finish an MFA in Dance Performance. My approach to dance uses all movement possibilities, and I enjoy being creative with making movement. What I love about this role is not only can I provide young people with the opportunity to learn Ballet, but I am also from Barking and Dagenham which is where I teach for Primary Steps. So I can relate to the young people's upbringing in the borough and be a role model for them.
How did you have to adapt what you usually do to the on-demand programme? Were there any special considerations?
Amy: The team behind the on-demand platform worked hard to recreate what would usually happen in a Primary Steps class, so the content is very similar. That said, there are of course some things that need to be taken into consideration during the filming process. Because the students aren't live in front of us, we needed to be able to anticipate all students' needs and situations, so the team worked hard to create content that was inclusive of all abilities and adaptable in different spaces.
Lewis: With the on-demand programme it was very much a case of learning on the spot about teaching to camera. I had to make sure that I was very prepared with knowing the lesson plan – more than I would in person because we had to get each take exactly right! Any small mistakes and we would have to re-film the entire section again.
Natalie: I usually teach my own lessons, but in this case, I didn't teach the lessons I created, so I needed to get the concepts and exercises across on paper to the teacher delivering the session. That was challenging. Also, the use of space was something to consider as I wouldn't be in the room with the participants (like I usually would). It was about trying to create lesson structures that allowed for an easier flow from one exercise to the next and kept the students focused in their own space. 
What was it like working with the Royal Ballet School students for the videos? What did you need to consider?
Natalie: The students were fantastic. They are naturally expressive and have a great physicality so it was encouraging them to explore alternative ways of doing things and the freedom to bring that natural expression through. The JAs engage in different themes through their weekly ballet classes, but the PSVOD adds a whole new element of creative exploration outside of classical ballet steps. You could see how much they enjoyed the challenge.
Lewis: It was so nice to work with a mix of Associate students and full-time Royal Ballet School students for the videos. As the teacher, it's strange to have responsibility for ensuring I am as clear as possible when speaking and demonstrating, while also directing the students in the videos so the students in schools can understand what is going on. It's a challenge for us all but we get the job done and are happy with the work. The students all work very hard on the day of filming.
Amy: It is always a pleasure to work with the students. They are always so professional and their work ethic epitomises a value held at the School: striving for excellence.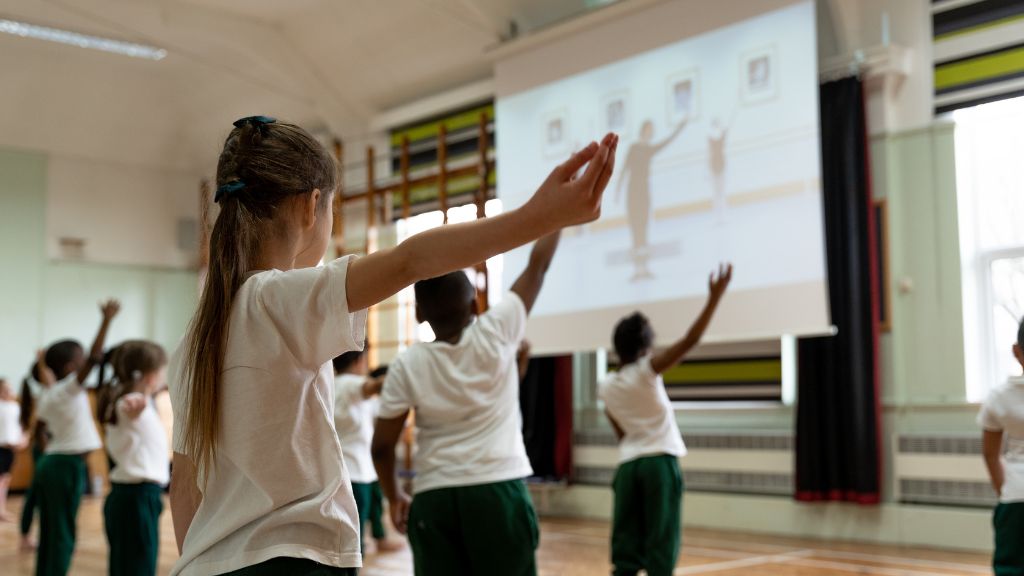 What did you enjoy about filming the classes for the on-demand programme?
Lewis: I enjoyed this being a new skill. I have never filmed for camera before, and although I can find it stressful having to juggle knowing the lesson plan very well, being clear in my speaking, being clear in my demonstrating, following the music, looking into the camera, and leading the students in the video, I am proud of both the philosophy and the outcome of the finished product.
Natalie: It was exciting to sit back and watch lesson plans (either my own or others' plans) come to life. When you are teaching there is so much going on in your mind, you don't always get to appreciate what the work does for participants. Sitting back and observing was quite emotional at times. Creative exploration holds so much value and benefit to children of all backgrounds and personality types. Even the shyest most introverted children can suddenly find a new avenue to expression and self-confidence. It's beautiful to watch.
Amy: It was a privilege to work with like-minded people who strive for excellence. Everyone in the team is passionate about the Primary Steps mission. They are all eager to see the on-demand platform succeed so that primary school children everywhere can enjoy and experience ballet and become part of the wider Royal Ballet School community.
What were your goals when writing the programme?
Natalie: Ballet is often misunderstood. I wanted participants to engage with ballet in a way that makes them stop and think 'wow, maybe ballet isn't what I think it is.' Ballet is exciting, challenging, fun, emotive and collaborative. We all have our likes and dislikes, that's natural. But even if someone finished the on-demand programme thinking 'ballet isn't for me,' I hope they can still feel they gained something special from the experience, and go away with a better understanding and appreciation for the art. You never know, ballet may come back into their life again later, either as a participant or an audience member, and Primary Steps on Demand may have paved the way.
What are the benefits for young children of taking part in dance, and in this programme in particular?
Lewis: Simply put, research has proven that dance is good for physical and mental well-being. It promotes creativity and allows young people to express themselves in ways that they would not be able to otherwise. Young people need to embrace dance and the arts to keep them alive for generations to come. This programme offers young people the chance to break with negative connotations of ballet, and combine ballet with a creative approach – which is what ALL dance is anyway… creative!
Amy: There are copious benefits for young children who participate in ballet, including but not limited to improved fitness and increased physical skills such as strength, flexibility, coordination, agility, gross and fine motor control, and spatial awareness; improved mental skills, including increased focus, perseverance and independence; improved listening skills and musicality; an improved ability to collaborate, communicate and problem solve, and increased confidence.
Ballet offers children an opportunity to express themselves artistically, physically, and creatively, where words can be insufficient. It provides a physical and artistic education simultaneously, which is unlike any other subject at school. Plus… it's fun!
Why should people sign up for the programme?
Lewis: To make the most of a golden opportunity to engage with dance, in particular ballet, and with The Royal Ballet School which they may not otherwise have. To learn something new. To get young people up and moving. To improve physical and mental well-being. To have fun!
Natalie: The programme is a perfect combination of physical exercise, educational learning and artistic expression. Schools can address those three main needs of their students in an incredibly engaging and fun way. I think it will also inspire the teachers and students to look at their classroom lessons in a different way. Once they've explored science or geography concepts through ballet, I don't think they will ever look at those topics the same again!
Amy: The on-demand programme is a unique offering for primary schools. It is convenient, user-friendly and requires no previous experience in ballet, although there is a plethora of CPD opportunities and learning resources for teachers too! Plus the content is inclusive and adaptable to meet every individual student's needs.
Not only is the on-demand platform a gateway through which children can access all the benefits of ballet, but it's also an invitation to become part of The Royal Ballet School community. From our school to yours, you are welcome… now, let's get dancing!