Celebrating Lady Sainsbury of Preston Candover CBE on her 90th birthday
We were so happy to be able to commemorate the 90th Birthday of Anya Linden, Lady Sainsbury of Preston Candover, CBE, at our Chairman's Circle event on Thursday 19 January.
With her late husband John, Baron Sainsbury of Preston Candover KG, Anya's influence on the school is immeasurable, as had been their impact on many more areas of the arts and their many other varied patronages and philanthropic projects.
Reporter, Sarah Crompton, in an interview with Anya, captured her special outlook: "Anya Sainsbury's belief is that art can transform people's lives", she says: "very often it is the inspired person who conveys excitement and commands respect …. Try for excellence …. and people will come to it."
Born Anya Eltenton, in 1933, in Manchester, her early years were spent in Leningrad, where her father, a research physicist, was part of a British team of scientists at the Institute of Chemical Physics there.
It was at the Kirov Theatre in Leningrad that Anya's parents saw the first ballet they'd ever seen, with the young Ulanova, dancing the lead in Swan Lake. After five years in Leningrad, the family moved Berkeley, California and in 1938 Anya's mother, realising how much Anya loved dancing, enrolled her at the age of seven, for a weekly ballet class with the excellent local teacher, Dorothy Pring, a former pupil of the great Russian ex-dancer/actor, Theodore Kosloff. Several years later, in the summer holidays, when Anya was twelve, Dorothy Pring chose her and another talented young student, Sally Nicholls, to study with Theodore Kosloff at his studio in Hollywood. This was Anya's turning point and it gave both Anya and Sally the determination to make ballet their careers (much later Sally joined the New York City Ballet and when visiting Anya in London, gave classes at the Royal Ballet School).
In 1947, Anya's family returned to England and she auditioned and was accepted by the Sadler's Wells Ballet School which was then located in a chilly church hall on Primrose Hill, before it moved to its new premises in Barons Court, the following Autumn. In her graduate year, Anya decided to change her stage name from Eltenton to Linden. After being a student member of the Sadler's Wells Theatre Ballet, Anya joined the corps de ballet of the Sadlers Wells Ballet Company in 1951, progressing with solo roles in the repertoire, including those in Giselle, Les Sylphides, Daphnis and Chloe, Cinderella, Homage to the Queen, Birthday Offering, Les Patineurs, Symphonic Variations and Cranko's Prince of the Pagodas. Then in 1956 she was given the leading role of Swanhilda in Coppélia and by 1958, the more demanding role of Aurora in The Sleeping Beauty, which brought her official promotion to Ballerina status. Other leading roles followed, including that of Odette/Odile in Swan Lake.
In 1962, Sveltana Berisova introduced Anya to John Sainsbury and John and Anya married in 1963. Together, they founded the Linbury Trust (a combination of their names) which gave them the opportunity to support organisations within the arts, education and social welfare, including our School. Their generosity has been fundamental to the success of the Royal Ballet School, acting as lead donors on several major capital projects.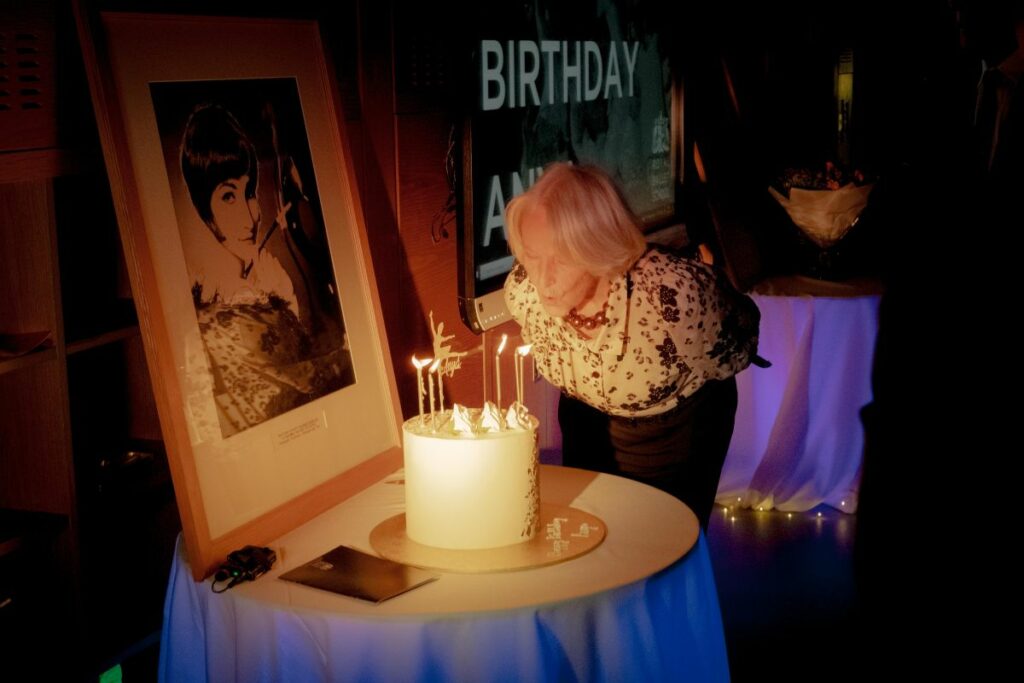 Honouring a very special person
We were thrilled to welcome Lady Sainsbury to our Chairman's Circle event.  We enjoyed creating and watching a special restored video of her performing Violetta Elvin's solo in Frederick Ashton's Birthday Offering from 1962 and loved pulling together a great many photos from our archives of her time performing with the dancers who were foundational to our School's special history. 
As with any good birthday celebration, we also celebrated with cake and speeches; one from our Artistic Director and CEO., Christopher Powney and one from our Chairman, Christopher Rodrigues, who each sincerely described the place that Lady Sainsbury has in the heart of our school.