The Firebird with Dame Monica Mason at Chipping Campden Music Festival
On Monday 22 May, two of our Upper School 2nd Year students performed an excerpt of The Firebird at the Chipping Campden Music Festival. Acclaimed ballerina, director, and devotee of The Royal Ballet School, Dame Monica Mason, presented two of our students, Francesca and Ravi, who were then joined by their peers, Alejandro and Katie, in a class demonstration on stage. 2nd Year Ballet Teacher Paul Lewis taught the 40-minute class demonstration.
Dame Monica also gave a presentation to an engaged audience about the piece, sharing candid insights about the history of The Firebird. The students were accompanied by Royal Ballet School pianist Domenica Cardullo who had learned to play Stravinsky's music especially for this performance.
The Firebird's rich history
The Firebird is a complex and dynamic ballet based on a Russian folk tale, written by Igor Stravinsky, choreographed by Mikhail Fokine and first performed by Diaghilev's Ballet Russes at the Opéra de Paris in 1910. The role of The Firebird was created by Principal dancer Tamara Karsavina who was renowned for her talent and beauty. After a successful career, Tamara coached the esteemed Margot Fonteyn, who became one of Dame Monica's dear colleagues, in the role of the Firebird. As a former ballet dancer, teacher, and director of The Royal Ballet, Dame Monica imparted wisdom and shared insights she had gained from the original ballet with our fortunate students.
Our 2nd Year Upper School Students worked with Dame Monica to learn excerpts from the original ballet, including the Prince and the Firebird entrance and a pas de deux. Dame Monica delighted in recounting tales from her time with Margot Fonteyn, of which a captivated audience relished her insights. Performance opportunities like this display Dame Monica's abounding generosity with her time and dedication to mentoring the next generation of professionals. Paul Lewis was captivated by her enthusiasm in rehearsals, stating 'her energy is absolutely incredible. She just works so hard in rehearsals.'
The students also benefited from the expert tutelage of Nehemiah Kish, former Principal dancer with The Royal Ballet. Nehemiah performed the role of Prince Ivan Tsarevich in The Firebird and had a plentitude of knowledge to share with our students.
We spoke with 2nd Year student Katie about her experience learning from Dame Monica in preparation for the performance at Chipping Campden Music Festival:
Learning Firebird will be an experience I will never forget. It was a privilege to work with Dame Monica Mason, sharing her knowledge and helping with every detail. Her wisdom is a true gift. Although this piece is definitely not easy, I have loved challenging myself through the process and am so grateful to have been given this truly incredible opportunity.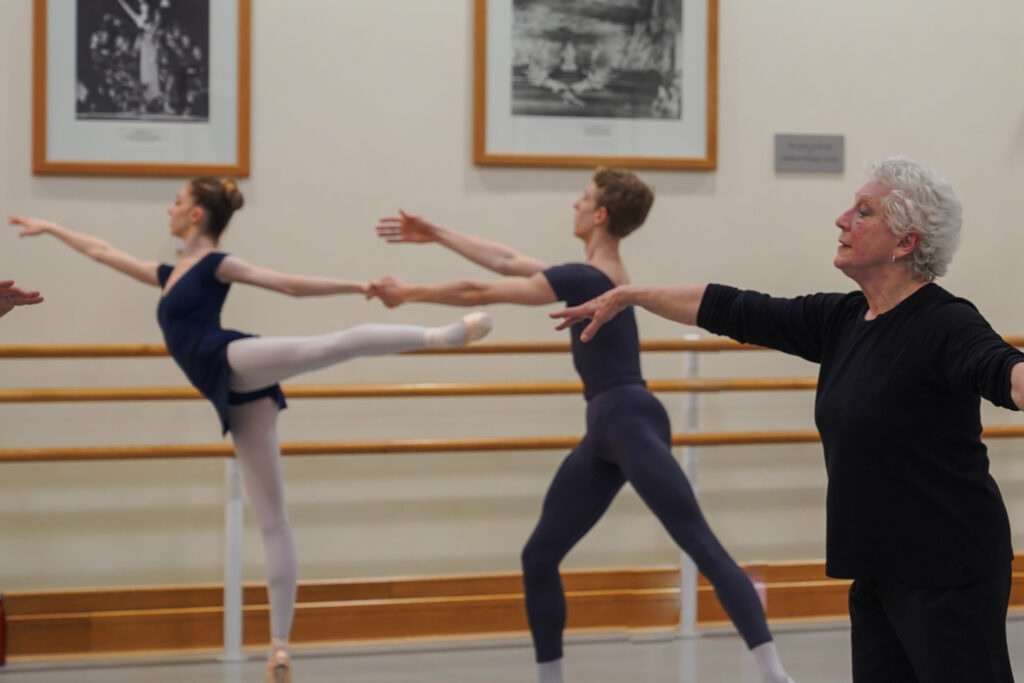 About the Chipping Campden Music Festival
Chipping Campden Music Festival was founded in 2002 and has become one of the UK's most illustrious festivals. The festival brings together artists in the picturesque Cotswolds and hosts a range of world-class music performances as part of its diverse programme. Attracting visitors worldwide, the festival's Founder & Artistic Director, Charlie Bennett, established the event to enhance access to high-quality live performances. We spoke to him about The Firebird performance:
The event, performed in front of a full house, was a huge success, and we would like to thank the young dancers, The Royal Ballet School staff, Mimi, and Dame Monica, for helping to make this year's joint event probably the most successful we have ever mounted.
Thank you to Dame Monica and Nehemiah for their commitment to coaching and nurturing the next generation of dancers and to our staff, supporters, and the festival organisers for providing them with these invaluable opportunities.