Primary Steps Graduation 2023
We held this year's Primary Steps Graduation at Upper School on Saturday, 27 May. Level 3 students from all our Primary Steps centres came together for the celebration and performed to an enthusiastic audience of family and friends.
Primary Steps
The Primary Steps Programme offers creative ballet education to children in our 34 partner primary schools. The programme targets areas of socio-economic diversity, extending a chance to try ballet to children who might not otherwise have the opportunity to experience it. Funded in England by the Department for Education and the Hodge Foundation in Wales, the programme offers access to dance education through weekly classes led by ballet and creative dance specialists.
An enchanting theme
Our Primary Steps staff and students have been rehearsing for graduation since January. The theme of this year's event was the ballet The Dream (based on Shakespeare's A Midsummer Night's Dream), and each centre prepared a performance to showcase on graduation day. Our Associate Programme and Primary Steps Artistic Manager, Victoria Collinson, spoke to us about the graduation pieces:
Each centre was free to interpret the theme as they saw fit, which resulted in some charming pieces. We had everything from cheeky and mischievous to slightly more brooding and mysterious dances. It was amazing to see what the teachers and students produced.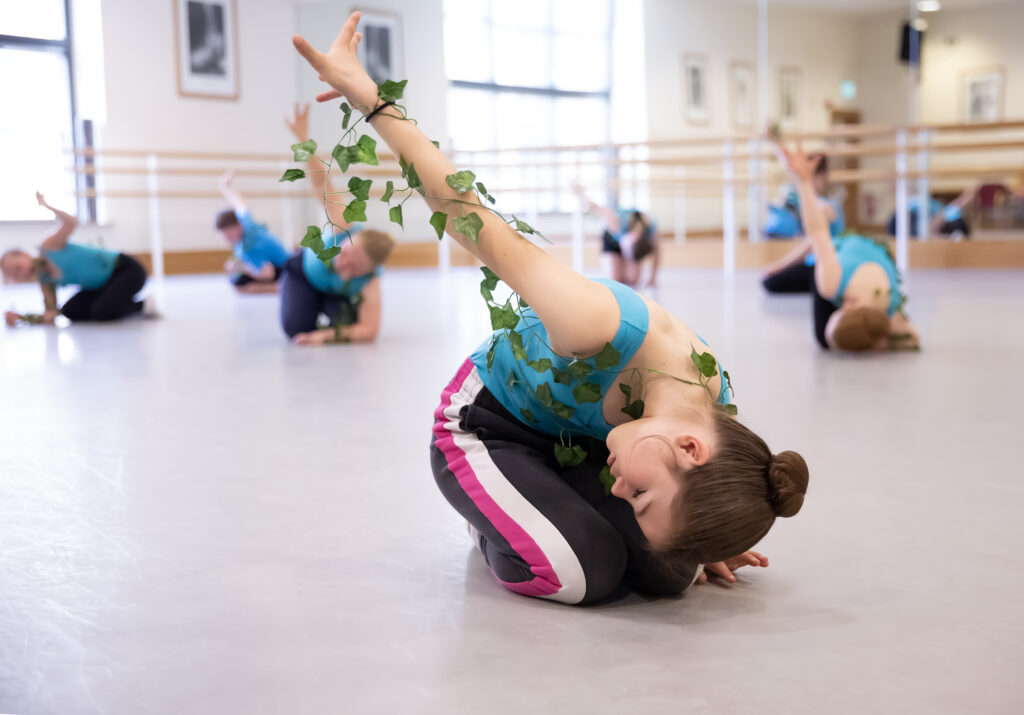 Graduation day
We were thrilled to see Primary Steps students from across the UK come together for the big day. Students from Blackpool travelled down the night before and stayed in a hotel, whilst students and teachers from our other centres had a very early start to arrive on time. We were pleased to welcome family and friends of students to the ceremony. Also present was Primary Steps musician Tim Sanders who composed original music for the Dagenham centre's graduation piece and came to see the result of his work at the performances. Victoria told us:
It all ran super smoothly, and it was a wonderful day. Everyone enjoyed themselves, and the students were so well-prepared by their teachers. Each centre created a graduation piece that let the students' talents and personalities shine. The parents were so appreciative of the whole day and loved watching the show. It was fantastic for them to see what their children had achieved.
Inspiring students
Two soloists from The Place's Centre for Advanced Training (CAT) Scheme, Ludgero Souza and Miyabi Croft, performed at the graduation alongside younger students from the programme. The CAT scheme is a national pre-vocational training programme for students who show promise in dance. These special guests gave our Primary Students additional inspiration to continue their dance training post-graduation.
A group effort
The day was a great success and couldn't have happened without the hard work and efforts of the whole Primary Steps team. We were pleased to hear about how everyone worked together from Victoria:
It was a massive group effort, and everyone came together to make the day work. With so many people involved, it can be tricky to put this event together in such a short amount of time, but it was a lot of fun, and the day was hugely successful. A particular thanks to Emily Gibbs, who was the day's mastermind and ensured everything ran like clockwork.
Congratulations to all our Primary Steps graduates – we wish you the best on your future journeys. Thank you to everyone who helped to make this graduation day special and to all those involved in the Primary Steps Programme.