50 years of John Neumeier at Hamburg Ballet
Last week four Upper School students were given a once-in-a-lifetime opportunity to perform as part of the renowned John Neumeier's 50th anniversary season at the Hamburg Ballet. Our students, accompanied by Artistic Director & CEO Christopher Powney and Ballet Teacher Paul Lewis, travelled to Hamburg to perform in the esteemed 48th Hamburg Ballet Days.
The Hamburg Ballet Days have a rich history, established by Neumeier in 1975 as a festival that served as the pinnacle of each season. Though each year is memorable, this year is particularly special, featuring a line-up of 22 productions, two guest companies, and a cinema festival from June 11 to July 9 in honour of John Neumeier's 50 years at the helm of the Hamburg Ballet.
The 48th Hamburg Ballet Days
2nd Year Upper School students Max, Emile, Jules and Alejandro performed in First Steps, a full-length evening programme as part of the 48th Ballet Days, featuring students from the School of Hamburg Ballet, Paris Opera Ballet School and Canada's National Ballet School. Students of all ages showcased their talents on stage at the Hamburg State Opera House, performing a diverse range of pieces that included their own choreographies. The event culminated with all the schools performing excerpts from Neumeier's Yondering, followed by a splendid finale performance.
Alongside their peers from Hamburg, Paris and Canada, the students performed Jeannie with the Light Brown Hair from Yondering. Christopher Powney and Paul Lewis also had the opportunity to teach classes to the students alongside fellow Artistic staff from Hamburg Ballet. While in Hamburg, the students were fortunate enough to attend a dress rehearsal of Romeo and Juliet, which they all agreed was a spectacular experience.
We spoke to Ballet Teacher Paul Lewis about the occasion:
It was such an honour to be a part of the huge celebration of John Neumeier's 50 years as Director of Hamburg Ballet. He is incredibly kind and hugely respected, and you could sense the level of respect from everybody in Hamburg.

The students received very positive feedback, and everyone was delighted with their performances. It was a wholly positive experience; the boys made some great friends, and the atmosphere was incredible. Neumeier was very pleased with the student's performance of Jeannie with the Light Brown Hair.
A young choreographer's dream
As part of First Steps in Hamburg, our students performed Pavements of Rome, a choreographic work by 2nd Year students Jules Chastre and Sigurd Blystad, which originated from the Ursula Moreton Emerging Choreographer programme. Here they discuss the inspiration behind Pavements of Rome:
When we first started creating our choreography, we took note of the Italian meaning of our music Altalena, which translates to swing. Through this meaning and the Italian sound of the music, we came up with the idea of Italy at night. In the creative process, we developed characters with the dancers in mind. Our choreography is an exploration of stories: stories of love, friendship, dreams and longing.
Jules' and Sigurd's piece was adapted for the students who travelled to Hamburg, from an original male and female cast. We spoke to 2nd Year student Jules about how it felt to have his work performed on the main stage:
Performing Pavements of Rome was incredible. It felt so surreal, especially performing it on a such big stage in Hamburg.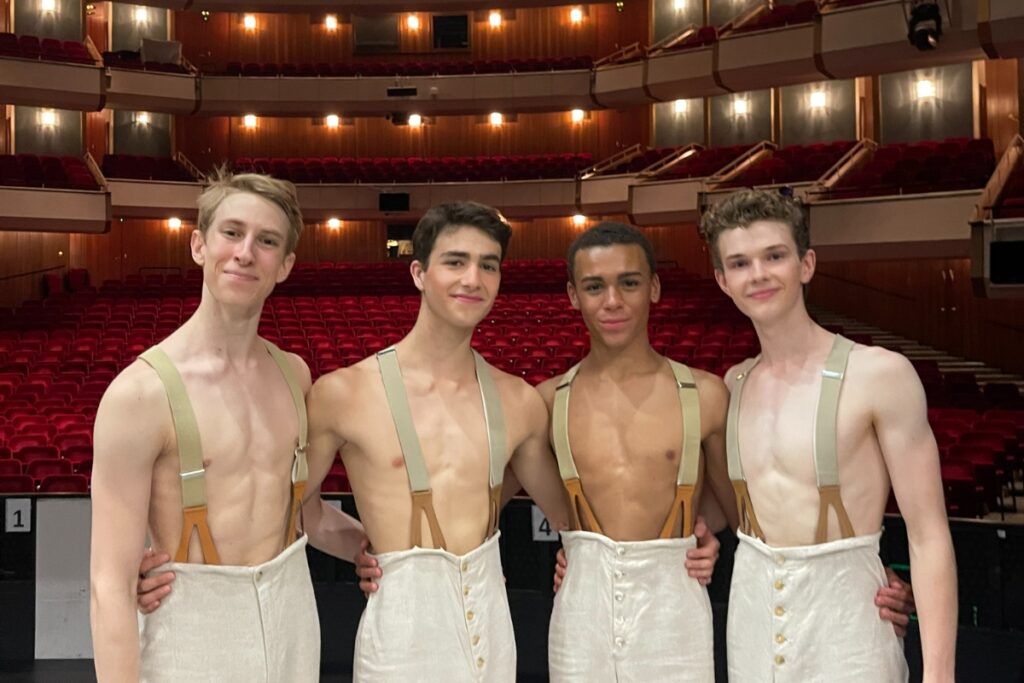 In Paul's words, 'Pavements of Rome brought the house down,' as he acknowledged this experience would be a lasting memory for Jules as he continues on his own choreographic path:
Neumeier was complimentary of Pavements of Rome and encouraging of Jules as a choreographer, which was a very special moment for him.
The end of an era
John Neumeier is a distinguished alumnus of The Royal Ballet School and an internationally acclaimed choreographer. After attending the School, he was invited by John Cranko to join Stuttgart Ballet, where he had an extensive career. Known for his choreographic prowess, Neumeier became Director of Ballet Frankfurt in 1969 and later joined Hamburg Ballet as Director and Chief Choreographer in 1973, where he established the School of the Hamburg Ballet in 1978.
Under Neumeier's leadership, the Hamburg Ballet has become one of the leading international ballet companies. He is a constant of the company, known for his clever storytelling ability and innovative choreographic style that perfectly pairs ballet tradition with a contemporary dramatic framework. At the close of the final curtain this season, Neumeier will retire from his illustrious career, marking the end of an era.
We extend our sincerest congratulations to Neumeier on his illustrious and distinguished career; his impressive accomplishments and body of work are a testament to his commitment and passion. We express our gratitude to the Hamburg Ballet for allowing the students to be involved in the celebrations and thank Neumeier for his invaluable contribution to the art form, which will undoubtedly continue to inspire generations of dancers to come.