White Lodge History Timeline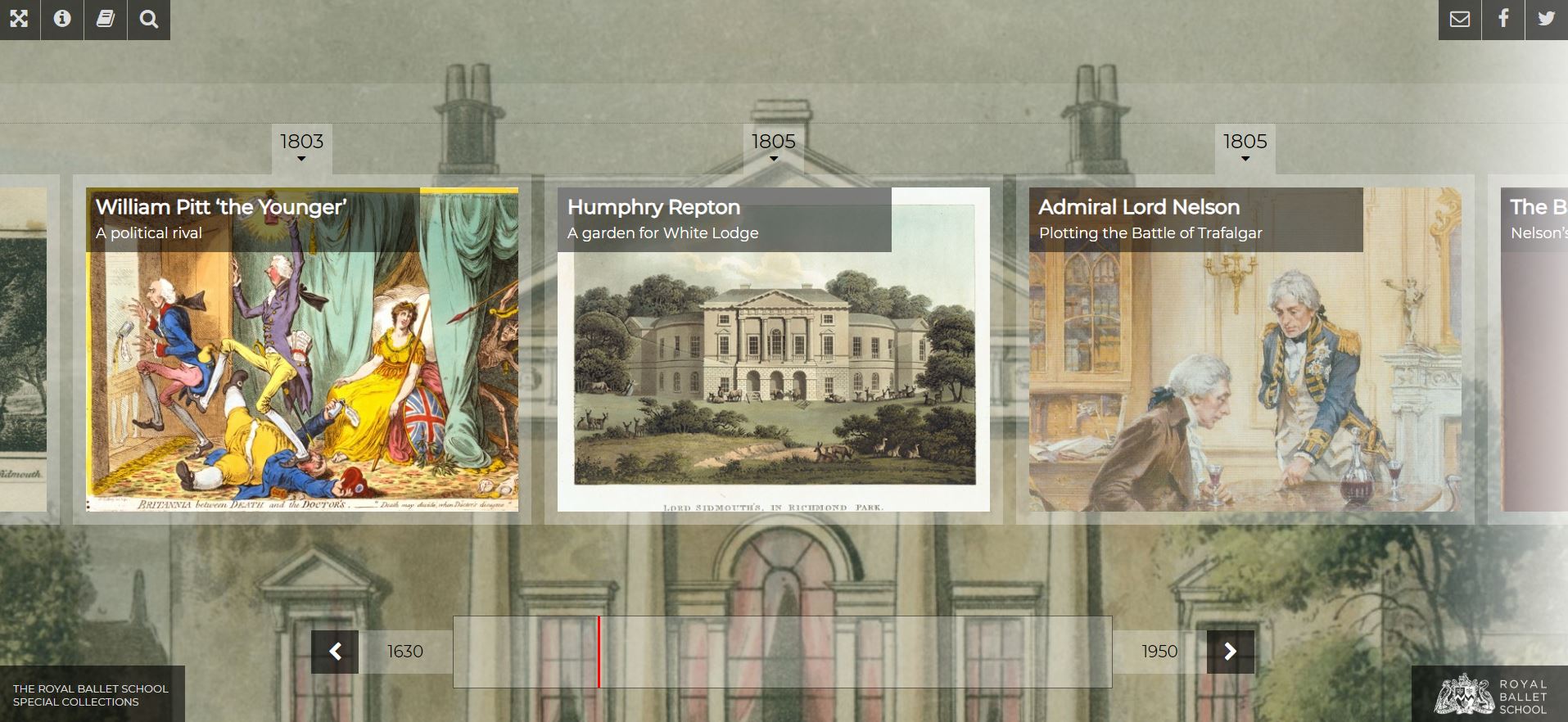 Our White Lodge History Timeline tells the story of this fine Grade I listed English Palladian villa, which lies at the heart of London's magnificent Richmond Park. White Lodge was first listed by Historic England, 10 March 1981: list entry 1250045.
Commissioned in 1725 as a hunting lodge for George I, White Lodge remains part of the Crown Estate to this day. By moving through the Timeline, viewers will be able to trace how White Lodge was built; its architects, royal connections and occupants; how the interiors and grounds have changed over time, and finally how it came to be the home of one of the world's leading ballet schools.
An ongoing project
The Timeline has been created by The Royal Ballet School to record the first three centuries of White Lodge's remarkable history. The School has been privileged to occupy this unique place since 1955; as a working boarding school, however, it is unable to offer regular public access to the site. Through creating this illustrated on-line resource, the School aims to provide virtual access to the buildings and grounds – as well as fascinating archival material relating to the Lodge's history. We hope you enjoy our White Lodge History Timeline, and that you will return to discover more as we develop it in future.
How to navigate the Timeline
The Timeline works on both desktop and mobile devices but, due to the extent of the materials, it is best discovered on a desktop computer.
A click on each main image in the Timeline will open it; many items have further 'Read more', 'Biography' or 'Gallery' tabs to investigate. An 'Information' tab gives credits and copyright information.
Thanks
Daniel Hearsum, who has generously allowed us the use of material held in the Hearsum Collection to illustrate extensive sections of the Timeline, enabling these wonderful items to be enjoyed online, where they can be appreciated within their proper historical context.
The late Siân Busby, who researched and wrote the text for a White Lodge History Timeline, which was displayed in White Lodge Museum, The Royal Ballet School, from 2009–15. Her work has provided us with a valuable inspiration and starting point for this online resource.
The Royal Ballet School is extremely grateful that this vital work was made possible by generous donations from: Julia Farron, the Foyle Foundation, the Idlewild Trust and an anonymous donor.
Images have been drawn from a number of national collections. The Royal Ballet School is particularly grateful to the following organisations and individuals:
National Portrait Gallery
Orleans House Gallery
Royal Collection Trust
Victoria and Albert Museum, London
The Estates of Lord Sidmouth and The Duke of Wellington