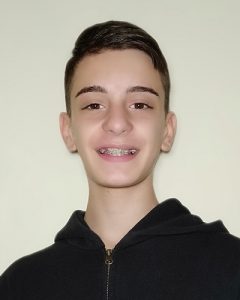 Antonio began his training at the age of nine at the Lyceum Foundation in Naples founded and directed by Mara Fusco. For his special qualities, the Lyceum, despite being a private school, granted Antonio a scholarship with all training completely free. The disciplines he studied during the first four years were: classical ballet, modern dance, flamenco, character dance, acting and mime, and classical repertoire.
Antonio's commitment and determination allowed him to take part in shows outside of the school, and under the careful guidance of the Director Mara Fusco. He took part in the DOC competition in Naples where he won first prize for his classic variation of the Tamburino, and his modern variation depicting the famous Pulcinella mask.
On the advice of Director Mara Fusco, Antonio obtained his first scholarship for the White Lodge Summer Intensive 2019. Having attended a seminar held at the Lyceum by Paul Lewis, he obtained a second scholarship for the White Lodge Summer Intensive 2020.
During the company performances, the Balletto di Napoli, annexed to the Lyceum school, distinguished itself in the role of Pulcinella. He also participated in shows organised by the Teatro dell'Opera of Rome under the direction of Eleonora Abbagnato who wanted the participation of the Lyceum school pupils in the ballet Pulcinella.
On being named a Royal Ballet School International Scholar, Antonio said:
'I am surprised and excited to have this great opportunity. It makes me happy that I am able to continue studying with my teachers, who have given me so much, but at the same time have the honour of being part of The Royal Ballet School, the dream of all the young dancers!
I will put all the commitment and determination as an ambassador of this wonderful program and I am honored to have this opportunity.'
Mara Fusco, Director of Lyceum Foundation, said:
'I know The Royal Ballet School well having studied in the past at Sadler's Wells, and graduating from Rambert.
During my experience as a teacher, I have already had the satisfaction of seeing my former students as scholarship winners for the Covent Garden Summer Intensives and today these young people have become professionals in international companies.
The joy and happiness of knowing that Antonio has been appointed an International Scholar of The Royal Ballet School makes me appreciate more and more the opportunities that this great institution offers to young talents from all over the world. I will follow the progress of Antonio during this programme and extend my immense gratitude to the School.'