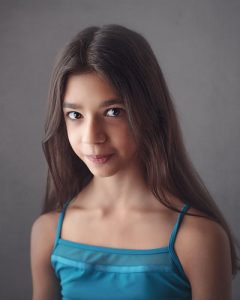 Beatriz was born in 2006 in Porto, Portugal, and currently studies in her hometown, at Escola Domus Dança with her teachers Sílvia Boga and Alexandre Oliveira.
Beatriz attended the Paris Opera Ballet Summer Course in 2017, and The Royal Ballet School Summer Intensive in 2018, where she was invited to join the International Scholar Programme.
Beatriz has also attended workshops with Isabelle Ciaravola and Sarah Lamb, as well as taking part in competitions, and was selected to dance at the Youth American Grand Prix 2018 New York Finals.
Due to her school's philosophy, Beatriz has already had lots of stage experience, taking part in several different productions each school year.
Christopher Powney first saw Beatriz dance at the 2018 Royal Ballet School Summer Intensive.
Beatriz started her training at The Royal Ballet School, White Lodge, in September 2020.