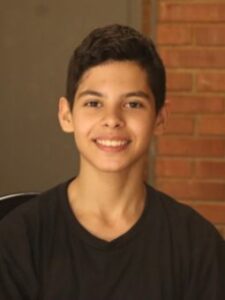 Manoel Domingos Gabriel Neto, born in Goiania/Goias, began his dance studies at the Gustav Ritter Arts Center in 2018.
As part of his curriculum, Manoel has participated in important dance festivals in Brazil including: Joinville Dance Festival, YAGP Brazil in 2020, 2021 and 2022.
In 2022 he participated in the Youth America Grand Prix in Tampa, Florida where he received the Royal Academy of Dance international scholarship.
His repertoire includes: Paysant, La Fille, Coppelia, The Little Humpbacked Horse, Harlequinade, Le Corsaire, Bluebird (Demi Soloist), Don Quixote, The Nutcracker (Bobonbons), Swan Lake (Mazurka), Giselle (Grape Festival). He has also acted in many neoclassical and contemporary works.
Manoel started training full-time at The Royal Ballet School in September 2023.