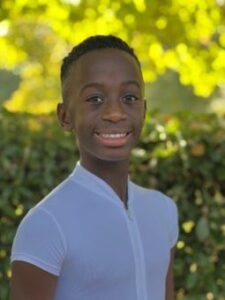 From an early age, Moise showed an interest in different art forms such as dance, singing, music and drawing. He began studying preparatory classical dance at the age of five at the Danse Atelier Dance School in Verona, following the educational programmes of the National Academy of Rome until September 2020, when his parents decided to enrol him at the STEP Padua Dance Academy.
In 2018, he took part in the Firenze & Danza competition in Florence, winning 1st place in the classical category and 2nd place in modern dance. After this, Moise won awards in competitions in various Italian cities as a soloist and in pas de deux. His successes stimulated him to continue classical dance and to tackle contemporary. In 2019 he embarked on a trip to Sochi for the Expectations of the World competition, performing with dancers from all over the world. In the same year, he won The Salieri Danza Competition for contemporary dance pas de deux.
Moise attended numerous internships between 2019 and 2020 whilst continuing his studies and competing in international competitions. At the Italian Dance Award of Perugia, he was selected by Christopher Powney for The Royal Ballet School International Scholars Programme.
On being named Royal Ballet School International Scholar, Moise said:
I think being named an International Scholar of The Royal Ballet school is very exciting but also satisfying! I was at The Royal Ballet School for just two days and I was able to admire the splendour of the extraordinary structure, but above all the staff's attention to the well-being of the students. I really hope I can be part of this wonderful school. I wholeheartedly thank my family, my teachers and my friends for their constant support and help over all these years. I love dancing and I hope to become a great dancer.