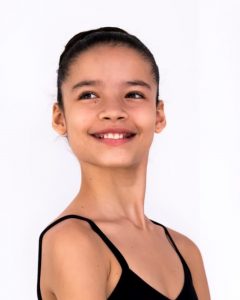 Sophia started dancing at the age of two and has been dancing at Ballet and Classe in Brazil since 2014.
She is currently dancing at Grade 5 with the Royal Academy of Dance.
Sophia has participated in several international competitions. In 2020, she won the Royal Academy of Dance's worldwide dance-off. In 2021, she was a finalist in the Youth America Grand Prix, was placed first at Europe in Dance Grand Prix, won two gold medals at the Global Dance Open South America and two silver medals at the Passo de Arte Grand Prix Southeast. In September 2021, she participated in the Festival de Dança Sete Oito – Art at Home and won 2nd place for her contemporary solo and 3rd place for her repertoire variation at the Arte Minas International Festival. She has also been selected to attend classes at the YAGP Brazil 2022.
Sophia also attended the 2021 Royal Ballet School Online Spring and Summer Intensives.
Sophia was invited to join the International Scholar's Programme by our Artistic Director, Christopher Powney, after he saw her dance at the 2021 Youth America Grand Prix Brazil.
On being named a Royal Ballet School International Scholar, Sophia said:
'I feel very proud of myself. I feel honoured to be named a Royal Ballet School International Scholar.
I will keep studying ballet with focus and train intensively to achieve my goals.
Thank you to The Royal Ballet School for this great opportunity!'