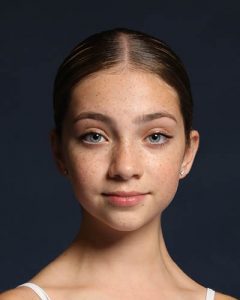 Sophia commenced her classical ballet journey in Sydney, Australia at Ecole Classique at the age of four where she started her Royal Academy of Dance training and examinations.
Sophia has continued her classical ballet training under the guidance of Ms. Lucinda Dunn, OAM. Artistic Director at Tanya Pearson Academy (TPA) in Sydney from the age of 10. Her passion and dedication to her training has grown exponentially in the last four years at TPA.
She has gained invaluable experience with Sydney's City Youth Ballet in their 2018 and 2019 Nutcracker production.
In the last three years, she has been part of the Australian Ballet School's Interstate Programme in Melbourne, ITP Level 2, level 3 and Invitee for 2020.
In 2020, after attending a summer intensive programme, Sophia was invited as an associate of the Queensland Ballet School.
As part of the Royal Academy of Dance programme in Australia, she was awarded 3rd place in the Halliday Awards in 2018 and was a finalist for the Isobel Anderson Awards in 2019.
In March 2020, Sophia has been successful in gaining a place in the finals for the Isobel Anderson Awards (RAD) to be held in November 2020.
In 2019 Sophia competed in the Asian Grand Prix 2019 regionals in Sydney and was placed, gaining her entry to the finals held in Hong Kong performing Sleeping Beauty Princess Florine Variation
To enhance her classical ballet training, Sophia has been fortunate to attend two Royal Ballet School Spring Intensive Programmes in Hong Kong in 2018 and 2019. More recently she has participated in The Royal Ballet School's Online Summer Intensive 2020.
On being named a Royal Ballet School International Scholar, Sophia said:
'I am so amazed to be included in the International Scholarship programme, this is a dream come true. I am so honoured and appreciate I have the best of both worlds to train at The Royal Ballet School and at home. I will show my commitment as an ambassador of this programme and I truly thank you for this wonderful opportunity.'
Sophia's teacher, Lucinda Dunn said:
'As an alumni of The Royal Ballet School, I'm extremely proud and humbled for a Tanya Pearson Student to be named as one of the International Scholars among some beautiful talent from around the world. These opportunities are such a wonderful way of discovering and nurturing young talent. I'm looking forward to seeing how this programme progresses.'