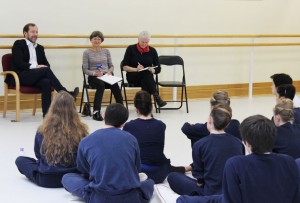 Director of The Royal Ballet, Kevin O'Hare, visited the School yesterday to talk to our 2nd Year students in Covent Garden about the choreography of Frederick Ashton's ballet The Dream.
The students are currently working in collaboration with other secondary school pupils to create new choreography inspired by The Dream. Students study Dance Appreciation as part of their Btec Unit for their diploma in Performing Arts(Dance) and are this year delving into the context of the ballet alongside their practical work.
Kevin's knowledge of the various iterations of the work, and his personal experience of performing it, gave the students an invaluable insight into the structure of the piece and the importance of understanding its context.
One of the 2nd Year students at the talk, Kilian Smith, said: 'It was a really great opportunity to hear about The Dream from someone who has danced it throughout their career.'
Find out more about our choreography training