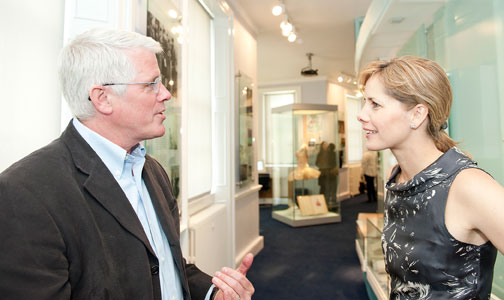 A very special exhibition is being mounted this spring to mark the fifth anniversary of White Lodge Museum & Ballet Resource Centre, based at The Royal Ballet School in Richmond Park.
Darcey Bussell: from Student to Star of The Royal Ballet will chart Darcey Bussell's life as the nation's favourite ballerina, from her days as a young student of The Royal Ballet School, illustrated by records from The Royal Ballet School Collections, to her triumphant career with The Royal Ballet.
The exhibition, which will run from May to October 2014, will feature photographs and exquisite costumes from Darcey's personal collection, including her Princess Rose dress from Kenneth MacMillan's ballet, The Prince of the Pagodas (1989), in which she was made a Principal of The Royal Ballet, aged just 20; as well as the tunic she wore for her last performance with the Company in 2007, performing in MacMillan's masterly interpretation of Mahler's Song of the Earth. Also, the magnificent tutu she wore in the Royal Opera House revival of Frederick Ashton's Sylvia (2004). 
Displays will include some rare film footage and artefacts, including a plaster-cast of Darcey's foot 'on pointe', made by the craftsmen of Madame Tussaud's when preparing the waxwork of the ballerina, and a preparatory sketch made by Allen Jones for his portrait of Darcey, commissioned by the National Portrait Gallery in 1994.
Darcey Bussell said: 'I'm so thrilled to be working with White Lodge Museum to put this collection of objects and memorabilia from my career on display. It is particularly special that the exhibition should take place where my career began at The Royal Ballet School.
'These objects are so meaningful for me because each evokes memories of particular moments in my life as a dancer; from my first School reports, to the costumes I wore in my performances on stage at the Royal Opera House.
'I hope this exhibition will also hold some fond memories for those who have followed my career, and show the new generation of young dancers that, with hard work, they too can achieve their goals.'
This intimate exhibition will open to the public on Tuesday 6 May and will close on Thursday 30 October 2014.