As part of Her Majesty the Queen's 90th birthday celebrations, The Royal Ballet School was invited along to a Patron's Lunch on The Mall. One staff member, Anna Meadmore, has written an account of the event:
When The Royal Ballet School was allocated 12 tickets for The Queen's 90th Birthday Patron's Lunch, the Governors took the generous and democratic decision to offer the coveted places to the 'longest-serving' members of the School staff. As it turned out, this lucky group of people came from all departments of the School, their individual stories providing a vivid 'snapshot' of staffing roles at the White Lodge and Covent Garden sites today, as well as some interesting memories of the School's past. Their experience demonstrates the many ways in which this unique institution continues to be woven into the fabric of so many people's lives and careers.
The group included four alumni of the School: Nicola Katrak was a student of White Lodge from 1968; she points to the notable fact that Matthew Ball's mum was a classmate, and also recalls the excitement of a visit to the School by The Queen Mother and Princess Margaret in 1970. Nicki graduated into Sadler's Wells Royal Ballet in 1975, where she later became a Principal (1983–88). She taught Junior Associates (JAs) in Birmingham, and then in London and returned to White Lodge to teach Year 7 girls, and she has since become a leading coach of the 'heritage' repertoire at the School. Sylvia Hubbard, Hope Keelan and Anna Meadmore all graduated from the three-year full-time Teachers' Training Course (TTC) in 1975, 1976 and 1991 respectively.  Hope remained at the School, becoming Valerie Adams' Assistant for a year, then joining the ballet staff under Barbara Fewster as a 1st Year Dancers' Course teacher. She is now Artistic Teacher and Programme Manager at White Lodge, and will have been on the staff for an astonishing 40 years this September.
Sylvia returned to the School as a JA teacher in 1987/8, working under two great teachers, Nora Roche and Jocelyn Mather. She is now The Royal Ballet School's Associate Programme Manager. Anna started with peripatetic teaching of Benesh Notation to students at White Lodge (Lauren Cuthbertson among them). She then joined the staff in 1994, both as an AS Level Dance teacher under Geraldine Morris, and as School Archivist assisting Audrey Harman. She remains the School's Archivist and History of Ballet teacher.
Two members of the music staff were at the Patron's Lunch party, Guy Attew (apparently unfazed by being the sole man in the group) and Tracey Renwick.  Guy joined The Royal Ballet School as a White Lodge pianist in 1986. He is now Head Pianist, following in the footsteps of his predecessor, Andrew West, who retired in 2014, after 42 years' service! Guy's most treasured recent memory is of playing for a School Performance rehearsal under the baton of Paul Murphy; he looked up from the orchestra pit into the Royal Opera House auditorium – where he had first fallen in love with ballet in the 1970s – and realised that he had crossed over the footlights at last! Tracey came to the School through Mary Goodhew, and started work as an 'Upper School' pianist at Barons Court in 1991. An early recollection is playing for a class given by Natalia Makarova – a rather 'scary' but exciting experience.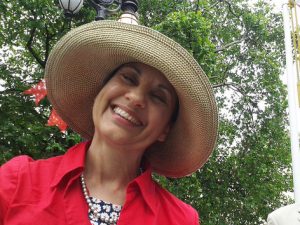 There were three members of the Academic Department at our table on the Mall. Catherine Pickston became a part-time Art teacher at Barons Court in 1985, later becoming Head of Art. Her first group of students included Darcey Bussell and William Trevitt, and it is worth noting that Darcey herself was much in evidence at the Patron's Lunch in her capacity of President of the Royal Academy of Dance; and that Billy Trevitt's son, Elijah, is now a White Lodger himself. Continuity is certainly a feature of the School! Stephanie Ritchie, who is now Head of Modern Languages, as well as Examinations Officer and Senior Teacher, joined the staff in January 1988, as a French teacher. Not long afterwards, a gala at which students performed alongside Rudolf Nureyev and Briony Brind gave Steph her first notion that this School was unlike any other she had known.
Suzanne Gunton came to the School in 1995, starting as Head of English. She takes great pride in the fact that several Royal Ballet School alumni have gone on to read English at top universities, including Lucy Ashe at Oxford (while at White Lodge in 2005, Lucy was placed in the top five candidates for English Literature GSCE in the entire country), and Louise Bennett at Royal Holloway, University of London. Suzanne remains Head of English, and is also the School's PSHE Coordinator.
The pastoral and medical care of the students was well-represented by School Physiotherapist, Janet Briggs and School Nurse, Frances Rees.  Janet trained at Hammond School, but from an early age her focus was less on becoming a dancer herself than on working with dancers. She assisted the renowned orthopaedic surgeon, Justin Howes, in the late 1980s, becoming the School 'physio' in 1992, covering all the students of the TTC, the 'Dancers' Course' and White Lodge. Janet points out that there are now many School alumni working in physiotherapy, such as Nick Cleverton, Amelia Wilkinson and Sophie Biddell.  Frances, known to generations of White Lodgers as Nurse Rees, undertook that vital role in 1991. She looks back to the opening of the Margot Fonteyn Theatre soon after her arrival, and recalls being 'blown away' by a grand defilé of all the students, costumed in white.  She realised then how very special they are.
The administrative underpinning of the School was represented by Sheila Gresswell. She began working at the School in 1990, as Auditions Secretary. In 1993, she moved to White Lodge as Ballet Secretary, eventually taking on the role of School Secretary on the retirement of Brenda Littell in 2006. Sheila has had many changes of title over the years, and is now Senior School Administrator. She has built up a great knowledge of the workings of the establishment, but – as for all of us – it had to start somewhere. When she had been at the School only a few weeks, she passed an elderly lady on the stairs, who stood aside and vigorously waved her on with a walking stick: 'You go ahead, dear.' She was asked if she was aware that she had just met Madam. 'No', she replied, 'Madam who?'
There were no such uncertainties on the day of the Patron's Lunch: from the start, it was clear that all parties, including ours, representing the 600 charities of which Her Majesty is Patron, were going to get drenched. As we stood in the queue to pass the airport-style security of our allocated entrance gate, cheerful volunteers handed out voluminous plastic ponchos.  Once past the check-in (not made easier by the fact that everyone's paper tickets were disintegrating in the rain) the effect was quite surreal: a plastic-hooded multitude of 10,000 people as far as the eye could see, all the way down the Mall to Buckingham Palace and the Victoria monument in the distance.  Our table was near the stage, which had been set up in front of Admiralty Arch – a prime position, from where Clare Balding was presenting the event for the BBC, and where speeches were given later by Prince William and The Queen.
Before the parade got started at around noon (various musical bands and groups of Royal Academy of Dance students evoking the six decades of Her Majesty's reign), we 'set up camp' at our allocated table, and went off to collect our impressive M&S picnic hampers: a wickerwork basket each, filled with British produce, such as pork pie and smoked salmon, and including a can of Pimms to get the party started.  We also dug about in our Boots 'goody bags', which optimistically contained sun cream. 'Could somebody please turn the taps off?' being a plaintive utterance at one point during the thoroughly wet day. Miraculously, just in time for the 2pm scheduled walkabout by the younger members of the Royal Family, the drizzle stopped.
Clare Balding duly encouraged us to peel off our dripping ponchos, upon which some splendidly patriotic and colourful outfits emerged. During the walkabout, several of our party shook hands with the Duke and Duchess of Cambridge, who were friendly and charming.  We could also see Prince Harry, working the crowd on the other side of the Mall. He attracted much chirpy banter, and was happy to oblige with having 'selfies' taken. With the rain gone, The Queen and Prince Phillip were able to take their open-top car ride down the Mall at a leisurely pace. We were extremely close, and it was a real pleasure to see Her Majesty, smiling broadly, and sailing by in glorious fuschia pink. During the ensuing speeches at 2.30pm, Prince William thanked his 'Granny', and the crowd went 'Ahh!' (something you didn't hear on the TV broadcast later that evening – you really had to be there, as the saying goes). The Queen then thanked us all for our birthday wishes, but admitted that if people were still singing 'Happy Birthday' to her by December, she might feel rather differently about the whole thing!  We had an unforgettable day, and all felt very privileged to be there, both as representatives of The Royal Ballet School, and as participants in a very special moment in British history.
Anna Meadmore
13/06/2016