After much deliberation, the winner of our very first Primary Steps display competition has been chosen. The twenty eight participating Primary Steps primary schools got stuck into the challenge of creating the most original classroom display, using our recent Year 3 autumn workshops as inspiration.
The entries we received were of a very high standard and demonstrated a wide variety in approach. They included evidence of cross-curricular learning and use of each school's Primary Steps resource box.
Thanks and congratulations to all who submitted their work – it was very hard to choose a winner!
1st PRIZE: LAWN PRIMARY SCHOOL, SWINDON
The class topic this autumn was 'Ancient Egypt' so the Primary Steps workshops incorporated this theme, including a dance which was performed in the final week. This amazing display links History, Geography, French, Art & Design and Dance and has a title crafted in ribbon, which was inspired by pointe shoes.
On display are items designed by Year 3 pupils, including a tutu depicting pyramids, the desert, a sand storm, cactus and the River Nile. The display also included a boy's ballet shoe decorated with the 'Eye of the God Horus' and a snake in the desert. Many other details create an eye-catching display, including photographs of the children practicing what they have learned in the workshops.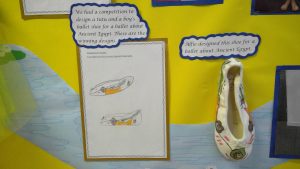 The judges were very impressed by the originality of the work and the quality of the presentation.
JOINT RUNNERS UP:
FOREST TOWN PRIMARY SCHOOL, MANSFIELD WOODHOUSE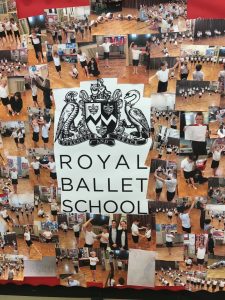 The original approach of this display uses a photo-collage which depicts images of the children's Primary Steps workshop exercises, around the logo of The Royal Ballet School. The children's enjoyment and ownership of their learning is evident in this classroom display. It offers a great insight into the experience of a Year 3 pupil at Forest Town across the six weeks of the Primary Steps workshops.
BISPHAM ENDOWED PRIMARY SCHOOL, BLACKPOOL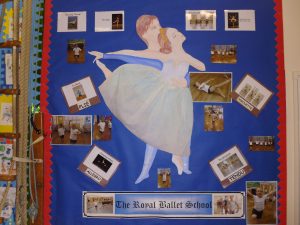 This classroom display centres round an accomplished piece of art made by the children, which depicts a skilled sense of ballet as performance art. This is complemented by pictures of the children dancing and learning a new movement vocabulary, which greatly enhances the display. Bispham Endowed Year 3 pupils have also been updating their blog with footage of their workshops.
Thanks to all who took part and we hope you enjoyed creating your displays.