Valerie Adams FRAD 1935-2019
We were deeply saddened to hear the news that Valerie Adams FRAD died earlier this week.
Valerie was an alumna of the School and the founder of our Teachers' Training Course in 1964. Her legacy will live on at the School as her work continues to inspire our great teachers.
Our thoughts are with her family and friends.
About Valerie Adams
Valerie Adams trained under Elizabeth Collins and Ida Stewart at the Wessex School of Dancing, Bournemouth, until the age of 16. During those formative years she experienced a range of dance styles, studying for her RAD ballet and ISTD Greek examinations, and performing in local festivals.
She also took occasional classes in London, with Vera Volkova, Phyllis Bedells, Noreen Bush and other renowned teachers. In her final year at the Wessex School, Adams gained her RAD Solo Seal certificate, aged 15, and began to attend special classes given by Ninette de Valois at the Sadler's Wells School in London.
She was duly accepted into the Upper School, and soon found herself studying during the day while performing small parts with the Covent Garden Ballet and Opera Companies at night. In 1953, she joined the Sadler's Wells (later Royal Ballet) Company not long before it embarked on its third tour of the USA and Canada, visiting 26 cities over five months on a train dubbed the 'Sadler's Wells Special'. Adams later recalled that on her return to England she was so exhausted she slept for almost three days!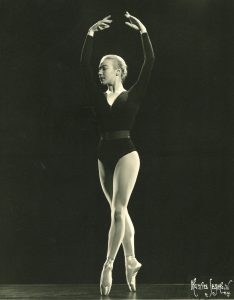 Photo (click to expand): Valerie Adams in 1953, when she was a member of Sadler's Wells Ballet on tour in the USA © 1953 Maurice Seymour 
By 1955, Adams had begun to feel that teaching was her true vocation; she approached de Valois, who thought she was still 'far too young' to teach, but relented when she saw that Adams was determined. De Valois not only advised her to observe all the ballet classes at the School, but also gave Adams detailed personal tuition whenever she sat in on one of her own lessons.
Just eight months later, in September 1955, Adams became a 'Junior Teacher' at the School, on a modest salary of £2.00 per week. However, within months Adams was unexpectedly called into the office of Arnold Haskell, the School's director; he explained that the Dutch Government was hoping to start a national ballet school at the Conservatoire of Music in The Hague, and had requested the help of a teacher from the Sadler's Wells School.
Haskell suggested that she should go; she accepted with de Valois' blessing, and then spent five and a half successful years in Holland, becoming the founding Principal of the Ballet School of the Royal Koninklijk Conservatorium (1956-61). In 2007, Valerie Adams attended the 50th anniversary of the world-renowned School she had established half a century before.
A few months after she had returned to the UK from Holland in 1962, Adams re-joined the staff of The Royal Ballet School, where another opportunity awaited her: in 1963, de Valois outlined a new scheme to start a teacher training course, and asked Adams to assist her with the development and delivery of the project.
The following year, in 1964, the course began, and soon expanded from two to three years of full-time study. In 1968 Adams officially became de Valois' Assistant on the Craftsman's Course, and when it was renamed the Teachers' Training Course in 1971, she was made Director, a post she held for almost thirty years. From 1981, a one-year Course for ex-professional dancers was also offered.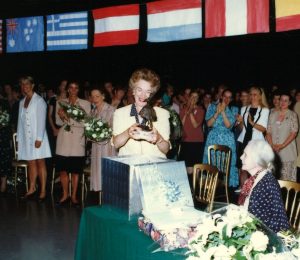 Photo (click to expand): The 1995 Teacher Training Course Graduation and Miss Adams' retirement with the flags of all the countries where the Teacher Training Course graduates were teaching. Left to right – in white is Hope Keelan, Lynn Wallis, Pamela May, Miss Adams and Ninette de Valois is seated.
Although the closure of these courses in 2000 was finally necessitated by the relocation of the Upper School to Covent Garden, they left an extraordinary legacy – a significant network of 324 graduates teaching to Miss Adams' exacting standards around the globe.
It was a source of great pride that most of the 'TTC' graduates were presented with their Royal Ballet School Teaching Diplomas by de Valois herself, who made a point of attending every annual graduation she could, saying they were among 'the happiest days in her calendar' each year. It was also a mark of her personal regard, affection and gratitude for Valerie Adams, whose years of dedicated work had made such an enormous contribution to excellence in ballet training, both in England and abroad.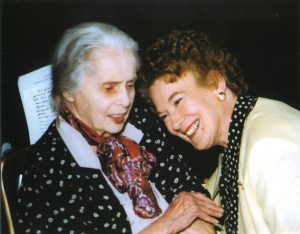 Photo (click to expand): The 1995 Teacher Training Course Graduation and Miss Adams' retirement – Miss Adams with Ninette de Valois (then aged 97)
Valerie Adams' funeral will take place in a private ceremony. In lieu of flowers she has requested donations to The Royal Ballet School. To make a donation in Valerie's name, please use our online donation form and in the notes section please include the line 'In memory of Valerie Adams' and any other tributes you wish to add.