Dame Beryl Grey (1927-2022)
The Royal Ballet School is saddened to learn that Dame Beryl Grey has died, aged 95.
Born on 11 June 1927 in London and brought up in Surrey, Dame Beryl's story began as for so many of our students at the School, from the age of four taking weekly dance classes, including ballet, national dances, tap and ballroom. Training under the teacher Madeline Sharp, her exceptional gifts were soon evident and Sharp arranged for acclaimed dancer and teacher Phyllis Bedells to give her private ballet tuition. At the age of nine Grey auditioned for Dame Ninette de Valois and took up a place at the Vic-Wells School (later The Royal Ballet School), to which she won a four-year scholarship.
Grey joined Sadler's Wells Ballet (now The Royal Ballet) aged just 14 in 1941, performing the role of a Blue Skater in Frederick Ashton's Les Patineurs. Grey became a Soloist in the Company the following year and marked her 15th birthday by performing Odette/Odile in Swan Lake, at de Valois' invitation. She gave a celebrated performance as the Lilac Fairy in Sleeping Beauty on the occasion of the reopening of the Royal Opera House after the Second World War in 1946.
A tall, elegant and immensely strong dancer, her illustrious career with the Company was marked not least by her confidence and incredible facility with dramatic roles, like The Sleeping Beauty's Aurora and The Lilac Fairy, as Giselle and Myrtha in Giselle, and as a memorable Black Queen in de Valois' Checkmate. She created numerous roles in ballets by Ashton, de Valois, Massine and Cranko, and remained a principal dancer at Sadler's Wells until 1957. Following this, she performed internationally as a guest ballerina to great acclaim, including as the first English dancer to perform with the Kirov in Leningrad and the Bolshoi in Moscow in 1957/58, and the first British dancer to perform in communist China in 1964, in Swan Lake and Les Sylphides in Peking and Shanghai.
On retiring from dancing in 1965, she became Director General of the Arts Educational Trust and in 1968, Artistic Director of London Festival Ballet (later English National Ballet), leading the company to flourish on the world stage once more after a bankruptcy. She was an important advocate for the proper training of dancers, holding positions as Vice-President of the Royal Academy of Dance (from 1980), Chair (from 1984) and then President (from 1991) of the Imperial Society of Teachers of Dancing and President of the British Ballet Organisation. She was particularly known for her open, encouraging manner with young dancers and her willingness to share her knowledge and experience, acting as a much-loved ambassador and promoter of her beloved art form.
Most recently, the School were delighted to spend precious moments with Dame Beryl Grey capturing her reminiscences on her time at the School as we look towards our centenary in 2026.
The School's Artistic Director Christopher Powney:
Dame Beryl Grey was a hugely important figure in the School's shared history with The Royal Ballet company. Her story and her work have been and will continue to be sources of immense inspiration for countless generations of classical ballet students. She was much adored and deeply passionate about our art form and its continuation into the future. She will be greatly missed by all of us at The Royal Ballet School.
The image above shows Dame Ninette de Valois rehearsing with Grey as The Black Queen for a 1963 BBC television production of Checkmate (photo by Anthony Crickmay, Theatre Museum, Victoria and Albert Museum).
The following biographical notes were prepared by Anna Meadmore, the School's Manager of Special Collections:
Beryl Grey was celebrated for her remarkable technique, quick intelligence, and the gracious warmth of her performances. She began life as Beryl Groom, and first danced in public when she was just four years old. Young Beryl displayed unusual dedication, working on her dancing before and after school from a very early age. At the age of ten, she was accepted to the Vic-Wells [later The Royal Ballet] School on a full scholarship, where a despairing teacher declared to the director, Ninette de Valois, that she could not see how to instruct the child, who could already 'do everything!'
De Valois was a formidable figure, known to her dancers as 'Madam'. Not given to dispensing praise lightly, she wrote in eleven-year-old Beryl's School report for the Michaelmas Term of 1938: 'This student has all the gifts that it is possible to bestow on a young dancer. Her behaviour is above any reproach and she is remarkably unspoilt… She should have a remarkable future.'
Grey 'was a tall, long-limbed dancer with an…easy, expansive style. Her fouéttes were effortless – she could turn them to the left or the right – and Arnold Haskell remembered her rushing to the dressing rooms, "asking the older girls how to be wicked as Odile".' (Anderson, 2006) The leading role in Swan Lake demands that the ballerina transforms from tender Odette into evil Odile, a challenge for the greatest dancer, let alone an inexperienced teenager.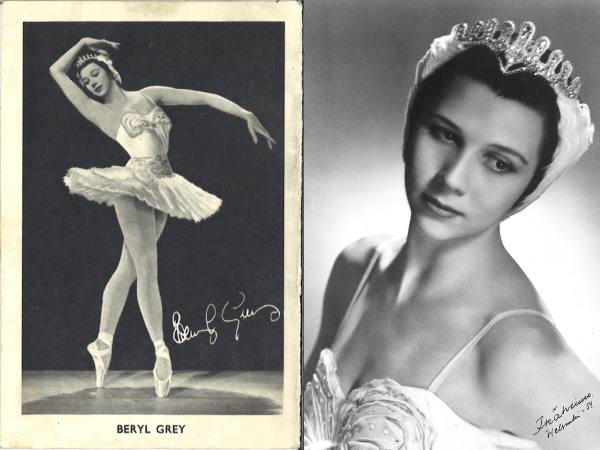 Above: Photographs of Beryl Grey as Odette in Le Lac des cygnes [Swan Lake], undated. Photographer unknown. The Royal Ballet School Special Collections.
With her unusually tall stature and extreme youth, Grey broke the mould of the English ballerina. She remained intensely loyal to de Valois and the Sadler's Wells (later The Royal Ballet) Company, where she established her career, but she also danced elsewhere. Grey starred in the first 'stereoscopic' ballet film The Black Swan (Dir. Leonard Reeve, UK, 1952). She was a Principal Guest Artist of the Royal Opera House, Stockholm in 1953 and 1955, and left The Royal Ballet in 1957. A celebrated guest artist around the world, Grey wrote unique accounts of performing and teaching in Russia and China: Red Curtain Up (London: Secker and Warburg, 1958) and Through the Bamboo Curtain (London: Collins, 1965).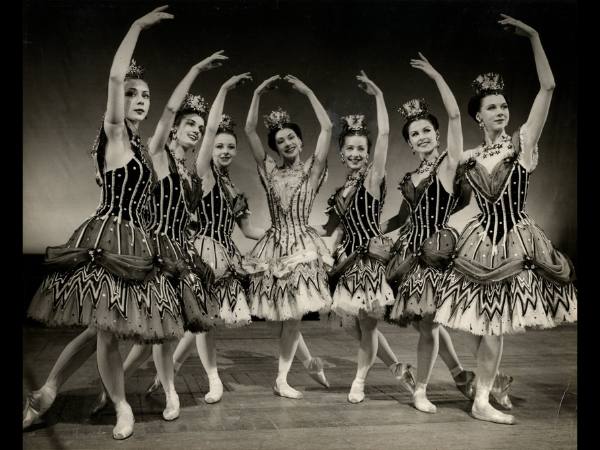 Above: Photograph of Frederick Ashton's Birthday Offering, 5 May 1956, L-R: Svetlana Beriosova, Rowena Jackson, Elaine Fifield, Margot Fonteyn (centre), Nadia Nerina, Violetta Elvin, Beryl Grey. Photo: Roger Wood © Royal Opera House. By kind permission ROH Collections. Source: The Royal Ballet School Special Collections.
She was recognised as a supreme ambassador for music, dance and education in the arts; she was made a Dame in 1988, and held five honorary doctoral degrees. In 1997 she was presented with the Queen Elizabeth II Coronation Award of the Royal Academy of Dance; and in February 2017, she received the De Valois Award for Outstanding Achievement at the Critics' Circle National Dance Awards. She was a Vice-President of The Music Therapy Charity and the British and International Federation of Festivals. She was also the Chairman of the Dance Professionals Fund (formerly the Royal Ballet Benevolent Fund), and a Patron of the Critics' Circle National Dance Awards. Her exceptional services to dance were duly acknowledged in June 2017, when Dame Beryl was appointed to the Order of Companions of Honour in The Queen's Birthday List.
Writing in 1955, Arnold Haskell observed Beryl Grey's 'rare combination of qualities' as a dancer: 'Her fine musicality has enabled her to use her extra height to extraordinary advantage; she phrases magnificently. Her technique is sure and completely unobtrusive. She has a warm and generous personality and far more temperament than the average English dancer.'
Classical ballet is a subtle, elusive art, and so it is surely fitting to turn to a poet in conclusion; in 1952 the Poet Laureate, John Masefield, wrote a six-verse poem entitled 'Miss Beryl Grey as The Prelude in Les Sylphides'. Here is the lovely third verse, in which Dame Beryl can still dance in our imaginations:
What is she thinking of, this floating flower?
Is she but keeping every nerve intent
On movement strained to graces, and the air?
Is she withinly happy in her power,
A thousand watchers making her aware
That they are hers, to govern by a hair,
Hers to a heart, as to an angel sent?
Or is all faculty too tensely bent
On this, the living instant in the hour?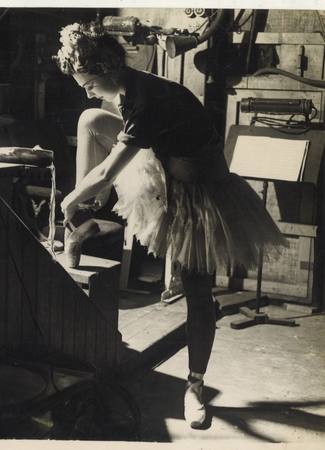 Above: Photograph of Beryl Grey backstage, tying the ribbons of her pointe shoes, undated. Photo: P A Reuter © PA Images. Source: The Royal Ballet School Special Collections.
Dame Beryl Grey, 11 June 1927 – 10 December 2022