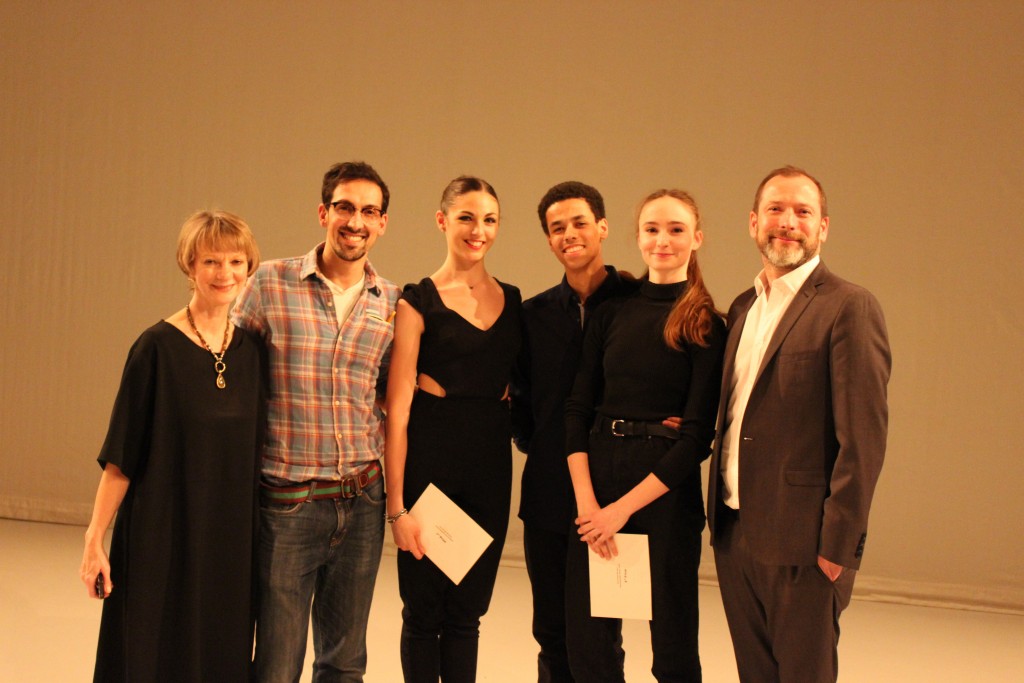 Click photos to enlarge
On Thursday and Friday evening last week we showcased two key strands of our work, the Ursula Moreton Choreographic Award and aDvANCE. These innovative projects provide opportunities for Royal Ballet School students to explore their creativity and develop skills creating original work.
Ursula Moreton Choreographic Award
This year nine 2nd Year students were shortlisted to develop and show their choreography for the Award, which is generously sponsored by Peter Wilson. There was a rich display of ingenuity put before our three distinguished judges Kevin O'Hare, Director of The Royal Ballet, Jeanetta Laurence OBE, Associate Director of The Royal Ballet and Arthur Pita, choreographer. After much deliberation they awarded first prize to Arianna Maldini for Quia Contra (For and Against), a piece of choreography inspired by an imagined meeting of the four elements of nature: water, fire, air and earth. The piece was set to Ezio Bosso's music Thunders and Lightnings.
Second prize went to Joseph Sissens for his piece inspired by the transatlantic slave trade called Let My People Go. His emotive choreography was set to The Bitter Earth by Max Richter and On the Nature of Daylight by Dinah Washington.
Third prize was awarded to Grace Paulley for Amo, Amas, Amat, which explored the grammar of love, and the luminosity of impressionist art. It was set to Debussy's Reverie.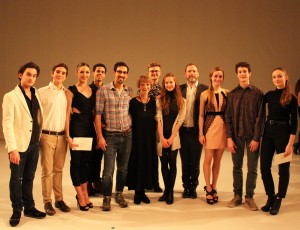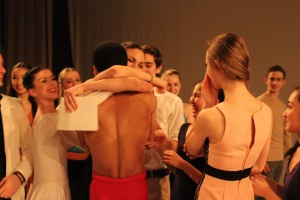 The Ursula Moreton Choreographic Award has played an important role in encouraging the development of young choreographers since its inception nearly half a century ago. It has provided a launchpad for many influential figures including David Bintley, Christopher Wheeldon and Cathy Marston.
Ursula Moreton was an instrumental figure in the encouragement of emerging choreographic talent in the mid-20th century. By nurturing  great artists, such as Kenneth MacMillan and John Cranko, she played a vital role in the development of the British style. She was Chairman of the Royal Academy of Dance's Production Club and later became Principal at The Royal Ballet School.
Our thanks to the judging panel for giving up their valuable time and to composer Russell Hepplewhite, who was music consultant to the choreographers. Congratulations to all the choreographers and dancers involved.
aDvANCE
Our aDvANCE scheme is part of our Outreach & Access work, which provides broader access to ballet and the work of the School through an extensive range of primary and secondary school projects. aDvANCE offers our 1st Year students a unique opportunity to work with young people learning dance in other contexts. This year the students collaborated with students from Featherstone High School in Southall, West London. Over the past five months the young dancers have taken part in a series of creative and choreographic tasks as well as visiting each other's schools to work together on a joint performance. On Thursday and Friday evening, the audience were treated to a performance by each school group separately before watching the collaborative piece Stabilimentum, choreographed by students themselves led by Dani Batchelor with assistance from Bim Malcomson.
The dancers took the tale of Arachne, a talented weaver who antagonised the goddess Athena and was then condemned to live as a spider, and developed it to create their own abstract interpretation of the story.
We are grateful for the generous support of the Department for Education, the Andrew Lloyd Webber Foundation and The Royal Opera House Covent Garden Foundation.