Celebrating our 2021 Summer Performances 
Sponsored by Imagination
Our annual Summer Performances came to an end on 10 July after a run of performances over three weeks at four venues: the Linbury Theatre at the Royal Opera House, the Margot Fonteyn Theatre at White Lodge, the Linden Studio Theatre at Upper School and, for the grand finale, the main stage at the Royal Opera House. We are extremely grateful to Imagination for once again being the lead sponsor of our Summer Performances.
This year, in order for all students to have the opportunity to perform, year groups were kept in bubbles which meant separate performances, culminating in 32 performances as opposed to the five or seven we usually stage.
The repertory across year groups included a mix of classical favourites and contemporary works. The students also had the opportunity to perform new pieces of choreography: Mephisto Waltz by Ashley Page, Swingle Stepping by Morgann Runacre-Temple, Playfully So by Valentino Zucchetti, Mozart Suite by Michaela Polley and Dvorak '21 by Mark Annear.
Explore the full programme of performances on our Cast Sheets webpage and see a snapshot of the performances in the Linbury Theatre and Margot Fonteyn Theatre below.
These performances were a phenomenal achievement after a challenging year like no other. We were delighted the students were able to perform this summer after a year absent from the stage due to COVID-19. This could not have happened without the commitment and efforts of all our students and staff.
In order to highlight the hard work of everyone involved, here are the Summer Performances in a series of fun facts: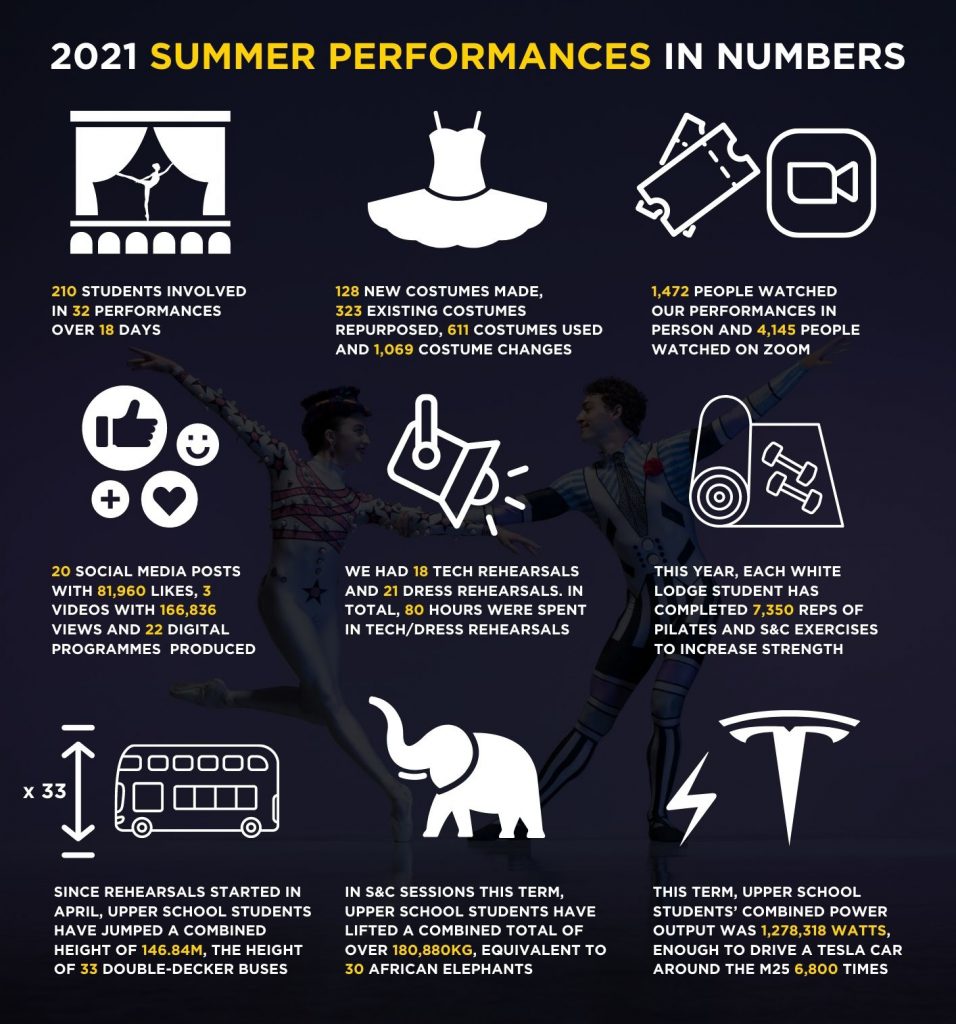 We were fortunate to have some dance publications join us for the performance. Below are highlights from the reviews we have received.
'Though these students are training to be artists as well as athletes, the ethos the matinee conveyed was much the same as that of England's football team: dedication, teamwork, discipline and hard work. And learning to cope with setbacks as well as success in the rest of their careers.' – Jann Parry, Dance Tabs
'…the programme […] showed that despite the privations of the last year the school was fully functioning and producing some amazing talent in a vibrant atmosphere of creativity and achievement.' – Maggie Foyer, Dans Portalen
On Swingle Stepping by Morgann Runacre-Temple, performed by Year 11 students:
'Dance is often as much about catching the mood as perfecting steps. Runacre-Temple and her White Lodge dancers got it just about spot on with both…The often accented movement was sharply performed throughout, the togetherness in the unison sections excellent…It was so good, I could have sat through it again.' – David Mead, Seeing Dance
On Mozart Suite by Michaela Polley, performed by 1st Year students:
'It's a charmer, elegant, musically matched to Mozart's notes and dressed in the classiest leotards ever.' – Maggie Foyer, Dans Portalen
On Playfully So by Valentino Zucchetti, performed by 2nd Year students:
'Classically based and written for thirteen dancers, it set a blistering pace with fast precise movements in canon and exciting innovative lifts. The RBS has a reputation for excellent partnering and despite enforced separations, the 2nd and 3rd Year students showed that standards have been maintained.' – Maggie Foyer, Dans Portalen
On Is to Be by Didy Veldman, performed by 2nd Year Students:
'As it feeds beautifully off the first movement, Ludus, of Arvo Pärt's Tabula Rasa, to which its danced, it relies much on the power of the ensemble, the dancers using each other's energy. But there are moments of sublime peace too, most memorably in the second duet (Scarlett Harvey and Oscar Kempsey-Fagg). Some of the patterning, the cast gathering then opening out like a sea anemone shifting in the swell, their arms its tentacles, is beautiful.' – David Mead, Seeing Dance
'A powerful work that generated waves of tension and surges of exciting movement; free and fluid.' – Maggie Foyer, Dans Portalen
On Elite Syncopations by Kenneth Macmillan, performed by 3rd Year students:
'It results in a well-executed work, danced with audacity and panache. The pupils know how to transmit in their dance the gaiety of the syncopated rhythms of the music.' – Blandine Pellistrandi, Danser Magazine
'Viola Pantuso, cute as a button, in Stop Time Rag was expertly partnered by Raffaello Barbieri in Bethena. Olivia Findlay scored in Calliope Rag by adding louche elegance to crisp technique and I loved the charm of Rimi Nakano and Elijah Trevitt in The Golden Hours.' – Maggie Foyer, Dans Portalen
On Three Preludes, First Movement by Ben Stevenson, performed by 3rd Year students Julie Petanova and Alejandro Outlaw Valera:
'3rd Year students, Julie Petanova and Alejandro Valera Outlaw, gave value to every move in a thrilling performance.' – Maggie Foyer, Dans Portalen
'Full of lyricism and flowing beautifully, they were the perfect embodiment of a gentle flirtation as they dance around a ballet barre that both links and separates them.' – David Mead, Seeing Dance
On Don Quixote, Act III Basilio's Solo by Carlos Acosta after Marius Petipa, performed by 3rd Year student Yuma Matsuura:
'It was timed to the nano second, sparked by electrifying dynamics while still looking perfectly at ease and with time to spare.' – Maggie Foyer, Dans Portalen
On Mephisto Waltz by Ashley Page, performed by 3rd Year students:
'Ashley Page's Mephisto Waltz danced by 3rd Year couples, made a bold statement, dressed in strong dark colours against a range of technicolour backdrops. The partnering was demanding and carried off with confidence and a good dose of sophistication while the clean outlines of tutus and tights highlighted the virtuosity' – Maggie Foyer, Dans Portalen
'Preceding the first interval, Mephisto Waltz by Ashley Page is an elegant, sleek tutu ballet that showed the third years' classicism off perfectly.' – David Mead, Seeing Dance
Visit our Flickr for more photographs of the Summer Performances and other events