Teaching as a true vocation: In conversation with our new Head of Artistic Programmes and Production – José Carayol
José Carayol emanates an air of genuineness and a deep enthusiasm for ballet and teaching. He has had a diverse career as a professional dancer in various dance companies worldwide, performing and working with numerous prominent choreographers, such as Nacho Duato, William Forsythe, John Neumeier, Goyo Montero, Roland Petit, Mats Ek, George Balanchine and Jiří Kylián. He has taught the next generation of dancers at some of the world's leading ballet institutions, including The Joffrey Ballet (Chicago), Los Angeles Ballet Academy and American Ballet Theatre, and has been a regular judge at competitions such as Youth America Grand Prix (YAGP).
Having joined The Royal Ballet School in 2021 as the Artistic Manager of the Foundation Programme, José has recently been appointed as Head of Artistic Programmes and Production. In this new position, he oversees our artistic programmes at White Lodge and Upper School, working closely alongside Artistic Director & CEO Christopher Powney.
Aside from his impressive list of accomplishments, José is authentically passionate about his craft and shares a forward-thinking vision for the art form's future. In the midst of preparing for a stellar Summer Performance season, José took the time to speak to us about his background and new role here at the School.
Can you tell me about your role?
In my role as Head of Artistic Programmes and Production, I oversee the delivery of artistic programmes, both at White Lodge and Upper School. In this role, I support Christopher Powney at a strategic level on how to evolve those programmes over the upcoming years.
I also support Christopher in shaping and delivering our students' performances and events throughout the year, such as the upcoming performances at the Next Generation Festival, Opera Holland Park and the Royal Opera House Matinee.
What are you most excited about?
At the moment, there is a lot of movement and change happening in the industry of ballet and its education, which is very exciting as I see it as an opportunity to evolve.
I enjoy these challenges because you can be part of a vision. We have the power to inspire and shape the future of ballet forward with dedication and passion. I take this with big responsibility as I'm confident The Royal Ballet School leads the way in many ways.
We provide a platform for young dancers to fuel their dreams, and our teachings go beyond dance. As a passionate advocate for education, I am eager to empower them to become ambassadors of the art form, carrying forward its traditions while igniting their curiosity toward the future. These are elements that can only develop through instilling values of discipline, perseverance, commitment and kindness toward one another.
Do you have a specific focus or any particular goals for your new role?
One of the most important things is understanding what ballet will look like in 10 years, and therefore, what will be needed to become a ballet dancer of the future. We have seen so much change in the past couple of years, so it will be about exploring what the future could look like to be at the forefront of its education.
Innovating is a duty and we all have to adapt to the times, but it does come with a great deal of care. A balance is struck between questioning tradition and changing the art form altogether. If we look at history, the general principles of ballet have constantly evolved. With the changing tastes of audiences, choreographers continue to demand more freedom of movement, paying greater attention to the quality of the steps to give dancers more expressiveness, which has expanded the already large vocabulary of movement. However, we can't lose sight of the principles based on the accumulated experience of five centuries. We can certainly say that classical ballet has been resilient to societal and cultural changes for hundreds of years.
My main goal is to work with Christopher Powney to formulate a plan and a vision for the School to continue to be a leading School in the world, while also maintaining our standards, in not only training dancers but in everything we do.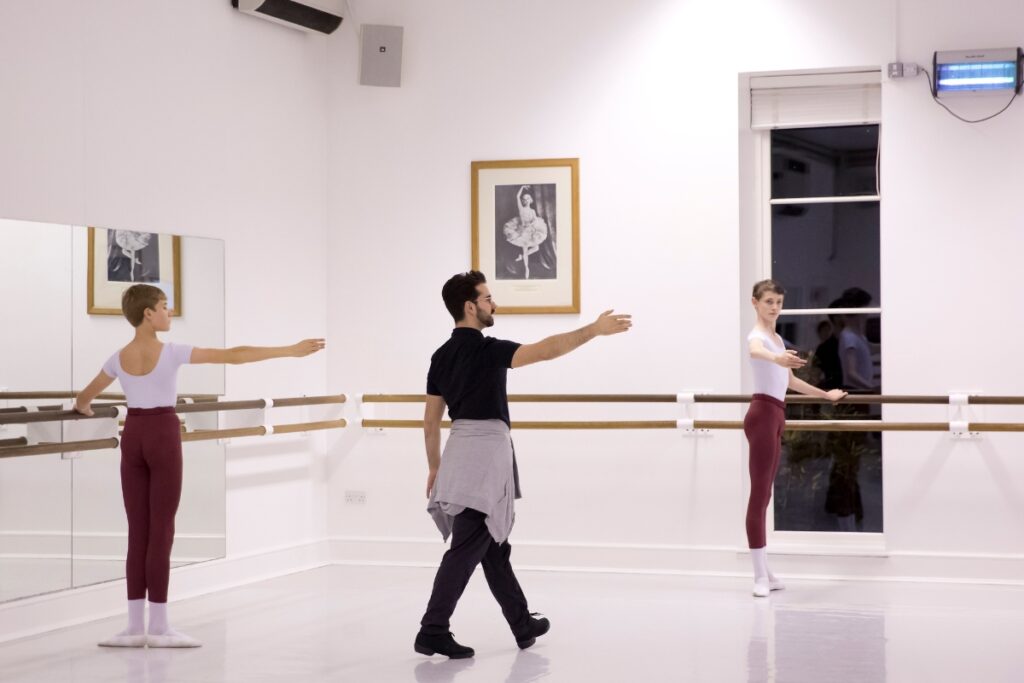 How did you start out as a dancer?
I'm from Ibiza, a small island with then little exposure to dance. One day I came across a performance in the street and was inspired by it. That was it.
I found a British teacher that told me I could only dance if I did ballet. I desperately wanted to attend the school, but there were two things that I couldn't get my head around; first, I didn't want to do ballet; and second, it was challenging for my family as they had no means to support me.
The teacher gave me an opportunity and allowed me to come to class. When I tried ballet for the first time, it ignited a spark in me, and it all became so easy. I can still remember that day. I'm incredibly grateful to my first teacher for pushing me to try ballet in a community where boys didn't dance, but most grateful for giving me a safe space to grow and develop, regardless of my socioeconomic background.
What do you remember about your early experiences with dance training?
The main thing I remember was the discipline. It was incredibly tough and demanding but truly special. We didn't have the advances in science and technology; it was a world without social media. Our only inspirations were the other dancers in the school and our incredible teachers. We couldn't compare ourselves with anything outside the school, even more so as a male dancer – which was uncommon in Spain then. I remember every time you were exposed to a professional company or a performance. It was so magical and like nothing you had ever seen before. We had an appreciation for the art form; we were enchanted by it, and it pushed us to create virtuosity.
What was the best advice you were given when you were training?
Never give up.
It was a very intense time, and there were a lot of expectations. I had to go to ballet school in the morning, train, followed by rehearsals with the company and to high school until very late at night. We used to do that Monday to Friday, and I would tour with the company on weekends. There were no days off.
Although we have learned so many things from all of these, it also made me the person I am today, and I can confidently look back and be proud of my younger self. I keep reminding myself to never give up, these days. It is a quote that continues to be fresh in my head.
What was your pathway to becoming a teacher?
I got injured and went to train with American Ballet Theatre in New York. I had always been a teacher, even when I was still a dancer. I was always asked to teach classes and help colleagues rehab from injuries.
There were many things I had to work very hard as a dancer, which made me learn so much about my body, its anatomy and the mechanics of it. Starting in the profession young also came with several injuries but as hard as it was then, I learned more about my body and how to look after it. I also understood how to control my mind during those difficult times. This helped me immensely when transitioning into teaching.
When I started my journey as a teacher, my priority was to really understand the progression of classical ballet and how you teach students from the very beginning. There I also discovered the influence of good teaching by helping them push their boundaries, explore their artistic self-expression, and instilling discipline and a lifelong love for the art form.
In my career, I have trained students from very young ages, all the way through to pre-professionals. This translates into my current position because I oversee the training across all year groups at the School.
Do you have any particular highlights from your dancing or teaching career?
When I think about my career, I think about both. I always say I danced to be able to be a teacher. My teaching career was my true vocation, but I am even more passionate about teaching.
Every single student that has come across my life has been a highlight and I remember every one of them. It is wonderful to see both the students who have moved into the professional world and those who have pursued other careers. It is fulfilling as a teacher to know that you have propelled them into finding their own vocation and being great at anything they decide to do.
What would you say are things that today's need to be aware of when they're starting out? What advice would you give to today's young dancers?
It's essential at this time that young people build resilience, so we can all face challenges and overcome them. The world of ballet can be difficult and demanding, parting from the base that we work with our body and mind, as our only instrument. As humans, it's impossible to be and feel great every time and all the time, and often as a dancer you don't have that choice if you are performing in 7-8 shows per week. Perseverance and commitment is key.
The professional world and industry are at times of change. We as dancers might often feel we don't make the big decisions on cultural changes but our voices are heard one way or another as eventually, we are the ones that get on stage and have the power of captivating audiences with our artistry. When I was a dancer, I often didn't understand why things didn't change faster. I'm now on the other side and I understand patience and the importance of trust in our leaders as a requirement to move the industry forward.